2YO FILLIES in Training
Below you'll find a list of 2 year old fillies currently in training with Ger Lyons. If you'd like to know more or would like to discuss training opportunities please contact us.
Right: Moonlight Bay battles hard to land the Birdcatcher for owners Clipper Logistics, Naas - October 2017. Photo: Healy Racing.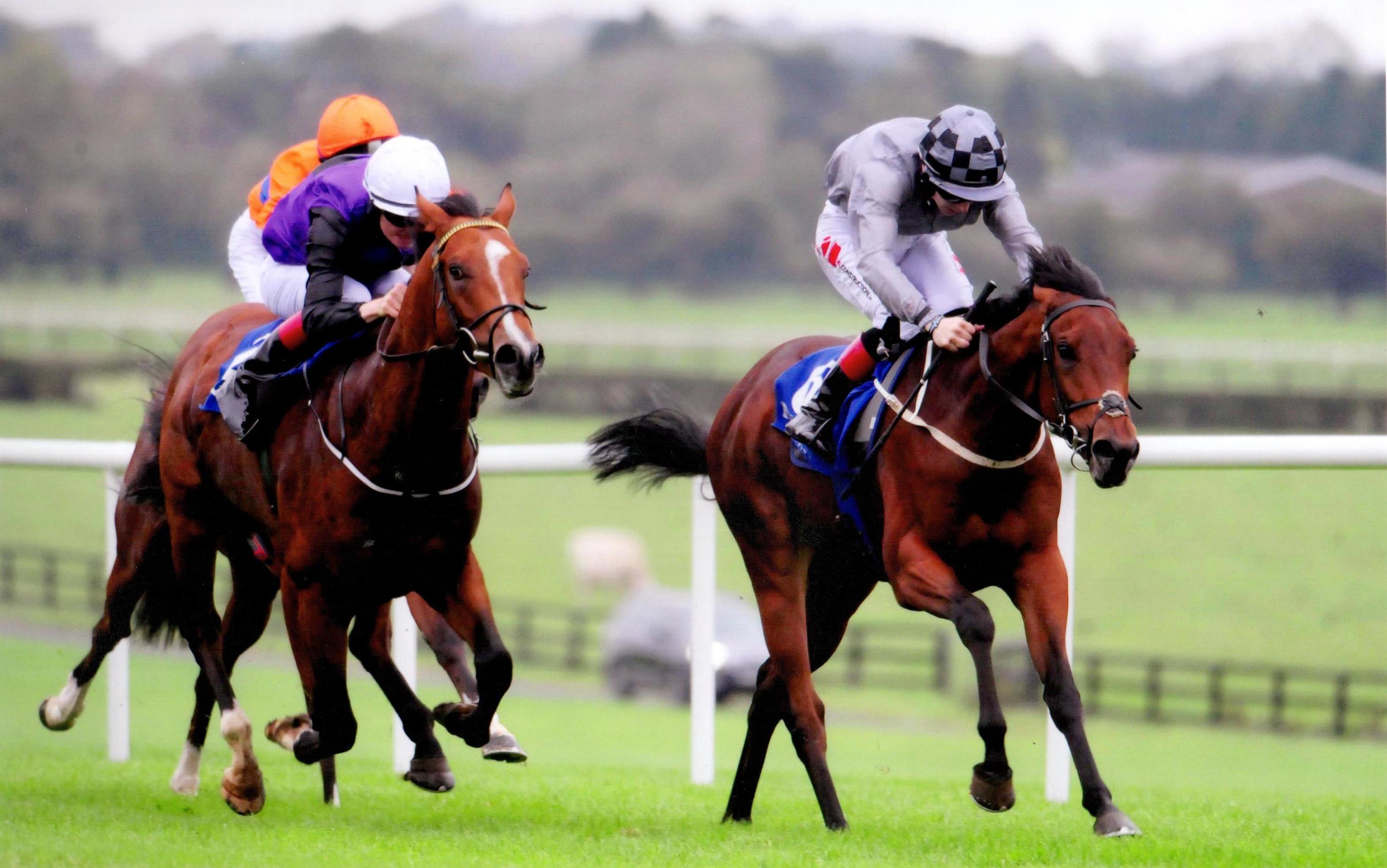 AMARISSA (IRE), 2016 B F Cape Cross ex Empowermentofwomen
BAILLY (GB), 2016 B F Charm Spirit ex Czarna Roza
BURMESE WALTZ (GB), 2016 B F Showcasing ex Heho
CHERRYVILLE (IRE), 2016 CH F Casamento ex Church Road
CHICAGO MAY (IRE), 2016 B F Charm Spirit ex Urgele
FELICIANA (GB), 2016 B F Lope de Vega ex Hypnology
FEMME ARGENT (IRE), 2016 GR F Dark Angel ex Havin' a Good Time
FULMINATE (GB), 2016 B F Charm Spirit ex Quiff
GOLD MEMORY (IRE), 2016 B F Havana Gold ex Mneme
HAZARAGULA (IRE), 2016 B F Tagula ex Hazarayna
HELIAC (GB), 2016 B F Champs Elysees ex Solar Pursuit
KAFTAN (GB), 2016 B F Dansilli ex Sense of Pride
KELIS (IRE), 2016 CH F No Nay Never ex Apple Spirit
MOON SHADDOW (IRE), 2016 B F Galileo ex Catch the Moon
MY LAUREATE (IRE), 2016 B F Rajj ex Imitation
NEVER SHY AWAY (IRE), 2016 B F Zoffany ex Shy Bride
PLANE TREE FAIRY (IRE), 2016 B F Oasis Dream ex Treasure the Lady
RITA LEVI (IRE), 2016 B F Kodiac ex Pioneer Alexander
ROMME (IRE), 2016 B F Society Rock ex Kyanight
ROMAN VENTURE (IRE), 2016 B F Holy Roman Emperor ex Romantic Venture
SINGER (GB), 2016 B F Oasis Dream ex Caponata
UNABRIDGED ( IRE), 2016 B F Acclamation ex Thousandfold
VIADERA (GB), 2016 B F Bated Breath ex Sacred Shield
UNNAMED, 2016 B F Kingman ex Clenor
UNNAMED, 2016 B F Midshipman ex Yankee Belle
UNNAMED, 2016 B F Requinto ex Fairy Trader