2yo FILLIES IN TRAINING
Below is our current list of two year old fillies in training with Ger for the 2020 season. The list will be updated as the fillies are named over the coming months.
Right: EVEN SO (Camelot ex Breeze Hill) wins her maiden with Colin on board at Gowran, September 2019. Photo: Healy Racing.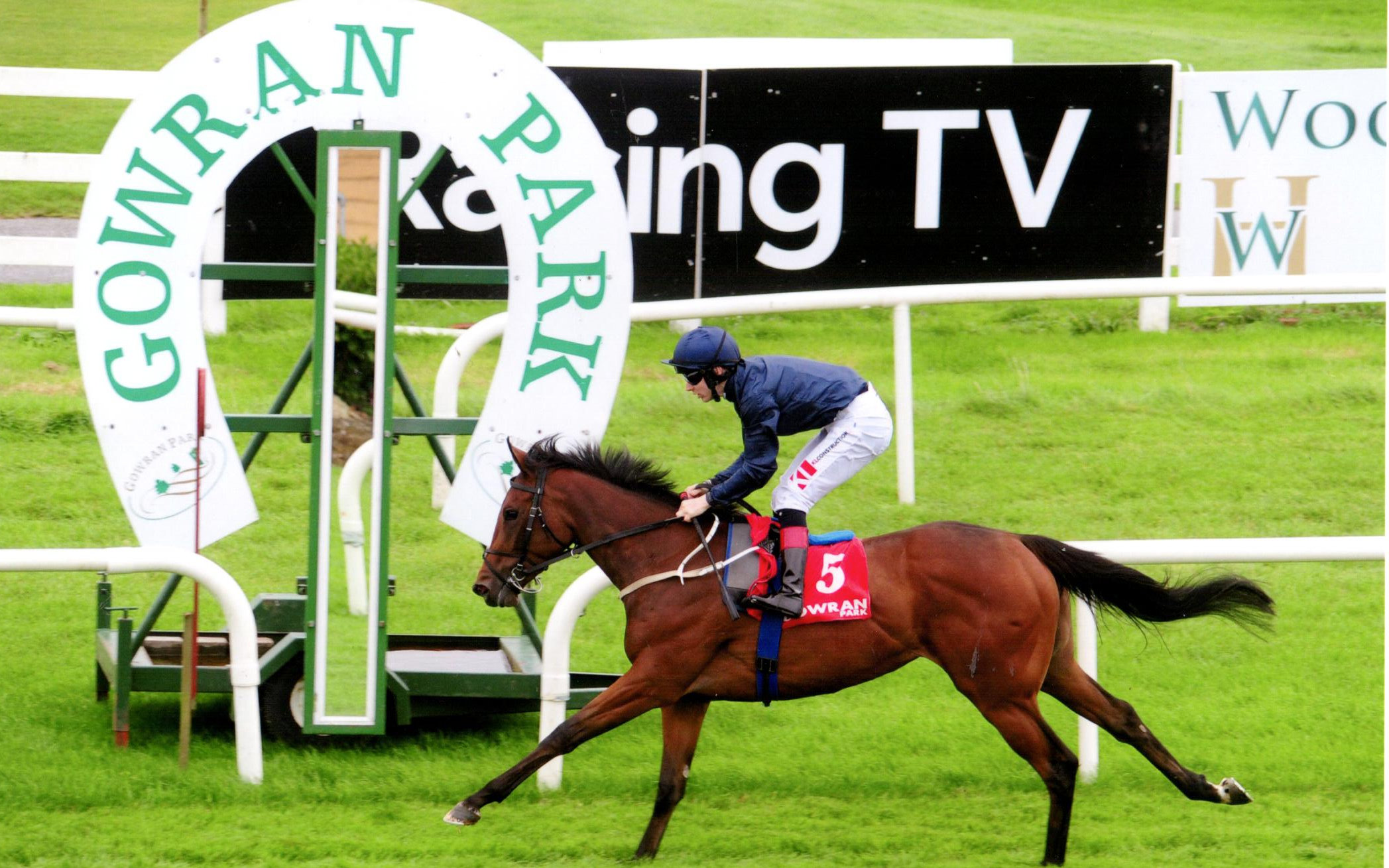 A TAAD MOODY (IRE), 2018 B F Awtaad ex Princess Mood
ALARM CALL ( GB), 2018 B F Oasis Dream ex Emergency
AMBER KITE (IRE), 2018 Ch F New Bay ex Arctic Passage
ANGEL PALM (GB). 2018 Br F Dark Angel ex Palmette
ANJALAWI (IRE), 2018 B F Anjaal ex Minawi
AVIATRIX (IRE), 2018 B F Kodiac ex Sutton Veny
COVER NAME (IRE), 2018 B F Camacho ex Cover Girl
FLAGGED (GB). 2018 Ch F Starspangledbanner ex Grasped
FLEUR DELACOUR (IRE), 2018 B F Kodiac ex She Bu
FRENETIC (IRE), 2018 B F Kodiac ex Moojha
HOLLY GOLIGHTLY (IRE), 2018 B F Gleneagles ex Cassandra Go
LADY PEORIA (IRE), 2018 B F Estidhkaar ex Lady Erdele
LAVENDER DAWN (IRE), 2018 B F Harzand ex Ezilii
LILY BIANCA (IRE), 2018 B F Harzand ex Cocoa Beach
LUMINESCE (GB), 2018 B F Muhaarar ex Must Be Me
NEW YORK QUEEN (IRE), 2018 B F Kodiac ex Zayn Zen
PARTY HOUSE (IRE), 2018 B F Camelot ex Crazy Volume
RINCESS PLUMERIA (IRE), 2018 B F Exceed and Excel ex Silent Confession
RIDIRE (IRE), 2018 Ch F Australia ex Rock of Ridd
RACY LACEY (IRE), 2018 B F No Nay Never ex Lace
ROSA WOODSII (FR), 2018 B F Wootton Bassett ex Dazzling Rose
RUGADH REALTA (GB), 2018 B F Showcasing ex Rainbow Springs
SEMENYA (IRE), 2018 Ch F Starspangledbanner ex Perfect Hand
SIMPLY A DREAM (IRE), 2018 B F Camelot ex Mora Bai
SISTER ROSETTA (IRE), 2018 B F Awtaad ex Brown Butterfly
SPILT PASSION (IRE), 2018 B F Fascinating Rock ex Bebhinn
TALACRE (USA), 2018 Br F Flintshire ex Bird Flown
WATERCOLORMEMORIES (IRE), 2018 Ch F Dragon Pulse ex Quick Thinking
ZOLA SAKURA (IRE), 2018 B F Kodiac ex Sommer Queen
UNNAMED, 2018 B F Kingman ex Parle Moi
UNNAMED, 2018 B F The Gurkha ex French Flirt