2YO COLTS & GELDINGS in Training
Below you'll find a list of 2 year old colts and geldings currently in training at Glenburnie. If you'd like to know more or would like to discuss training opportunities please contact us.
Right: Cannonball winning his maiden under Colin Keane on the opening evening of Derby Weekend, The Curragh - June 2017. Photo: Healy Racing.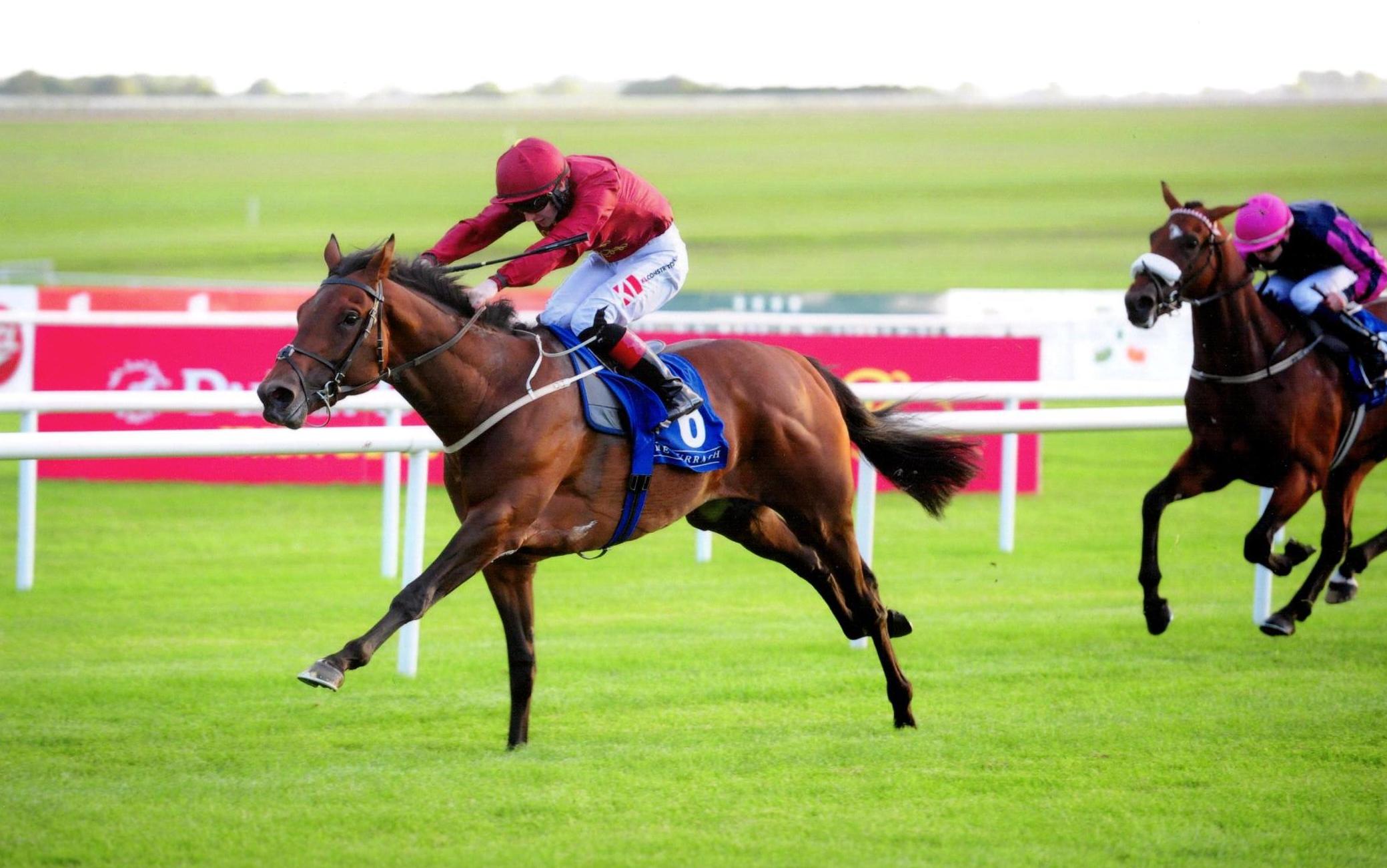 AFRODISIOS (IRE), 2016 B C Camelot ex Splendid
ANDRE AMAR (IRE), 2016 B C Dandy Man ex Heaven's Vault
ARMY RECRUIT (IRE), 2016 B C Zoffany ex Mamacita
BASIC LAW (IRE), 2016 B G Lawman ex Roystonea
CALIFORNIA DADDY (USA), 2016 CH C Scat Daddy ex Sulis
CALONNE (IRE), 2016 B G Alhebayeb ex Lady Pastrana
CLAVIERE (GB), 2016 B C Pivotal ex Slatey Hen
DEFILADE (GB), 2016 B C Bated Breath ex Zulema
DE LATOUR (GB), 2016 B C Epaulette ex Zerka
DREAMBOAT DAVE (IRE), 2016 B C Morpheus ex Gatamalata
ERICH BLOCH (IRE), 2016 B G Dandy Man ex Star Bonita
EXCELCIUS (USA), 2016 B C Exceed & Excel ex Crying Shame
GIGA WHITE (IRE), 2016 GR C Dark Angel ex Lightwood Lady
INFLECTION POINT (IRE), 2016 B C Invincible Spirit ex Danuta
INSTANT RETURN (IRE), 2016 B C Elzaam ex Instant Memories
INVASION DAY (GB), 2016 B C Footsepsinthesand ex Van de Cappelle
INVERLEIGH (IRE), 2016 B/Br C Excelebration ex Sommorell
JUNIORS DREAM (IRE), 2016 B G Holy Roman Emperor ex Lagoa
KAFU (IRE) , 2016 CH C No Nay Never ex Crosstalk
KINCH (IRE), 2016 B C Dark Angel ex Lapis Blue
LANCASTRIA (IRE), 2016 B C Cape Cross ex Lady Vyrnwy
LEGENDRE (GB), 2016 GR G Lethal Force ex Making Waves
MERRICOURT (IRE), 2016 GR G Mizzen Mast ex Elite
META MORPH (IRE), 2016 B C Morpheus ex Red Rosanna
NICKAJACK CAVE (IRE), 2016 B G Kendargent ex Could You Be Loved
PATCHCALLSTHESHOTS (USA), 2016 B G Scat Daddy ex Charming She Is
PHENAKITE (GB), 2016 B C Dream Ahead ex Cats Eyes
PHOENIX OPEN (USA), 2016 B C Scat Daddy ex Katie Get Excited
PYTHION (FR), 2016 B C Olympic Glory ex Paragua
SAURON'S EYE (GB), 2016 B G Delegator ex Stylish Dream
SCORCHED EARTH (IRE), 2016 CH C Zoffany ex How's She Cuttin'
TALLIEN (IRE), 2016 GR C Casamento ex Chantilly Cream
THIEF OF JOY (IRE), 2016 CH G Casamento ex Farthing
TOP LINE TOMMY (IRE), 2016 B G Morpheus ex Becuille
WARTIME HERO (IRE), 2016 B G Kodiac ex Spring Surprise
YONKERS (USA), 2016 B C Medaglia d'Oro ex Anne of Kiev
ZANDER (GB), 2016 B C Oasis Dream ex Zamanist
UNNAMED, 2016 B C Canford Cliffs ex Sweet Peak
UNNAMED, 2016 B C Casamento ex Fixed Gaze
UNNAMED, 2016 B C Compton Place ex Onlyyouknowme
UNNAMED, 2016 B C Mastercraftsman ex Dusty Moon
UNNAMED, 2016 B G Rock of Gibraltar ex Llew Law
UNNAMED, 2016 CH C Strong Mandate ex Amusing Plan