TRANSFER LIST
Our team is having a shake up so we have drafted this transfer list of horses who will be moving onto new owners.
If you would like one of them on your team, click on the horse's name to view its race form. To find out more, please get in touch by emailing office@gerlyons.ie or call +353 46 902 5666.
Right: ERICH BLOCH wins his 6f maiden at Naas. Photo: Healy Racing.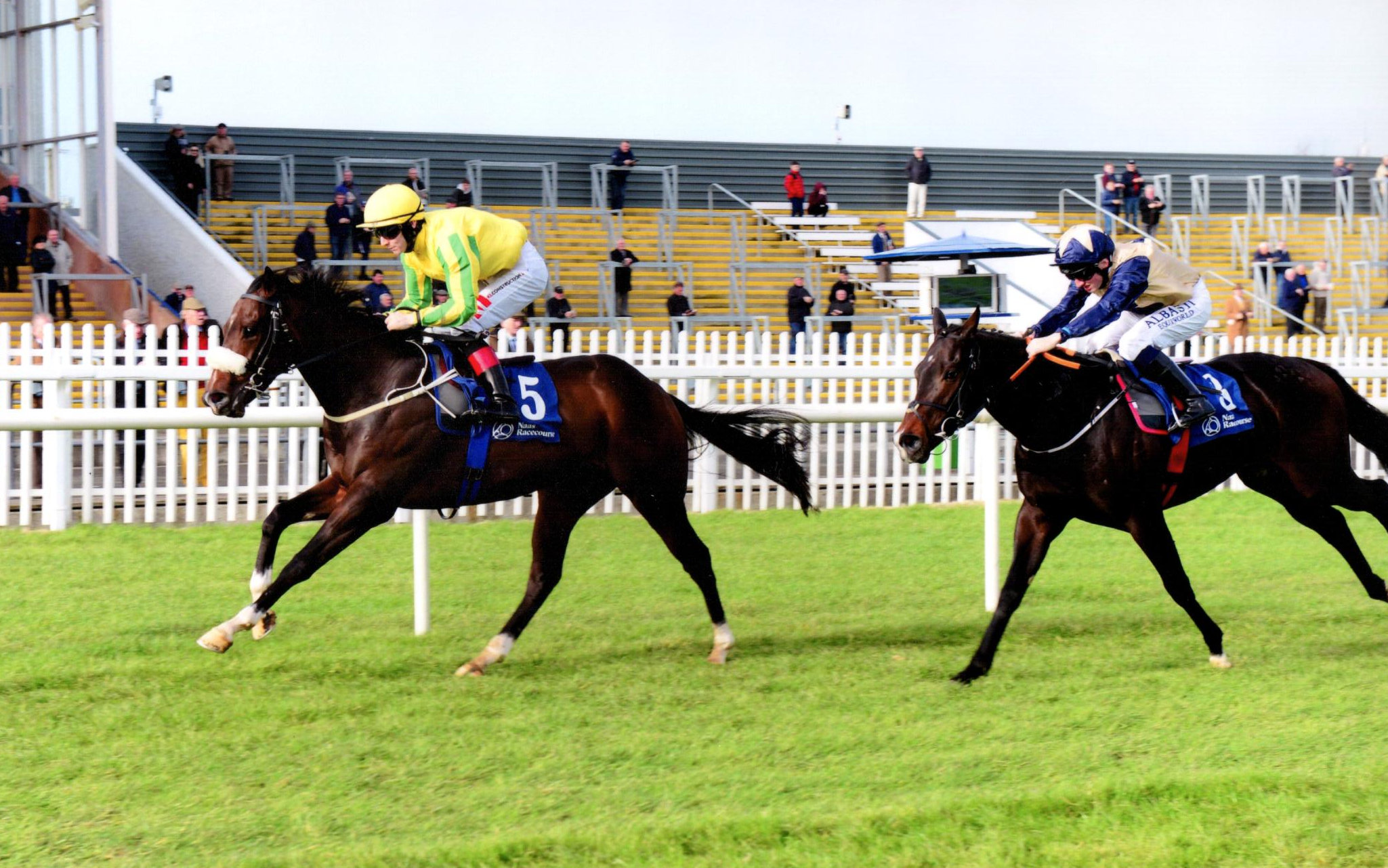 5YO gelding
MEDICINE JACK (GB), 2014 Ch G Equiano ex Agony Aunt
PSYCHEDELIC FUNK (GB), 2014 Ch G Choisir ex Parabola
4YO gelding
BOBBY BOY (IRE), 2015 Gr G Big Bad Bob ex Les Alizes
3yo colts/GELDINGS
CALONNE (IRE), 2016 Gr G Alhebayeb ex Lady Pastrana
ERICH BLOCH (IRE), 2016 B G Dandy Man ex Star Bonita
EXCELCIUS (USA), 2016 B G Exceed and Excel ex Crying Shame
GIGA WHITE (IRE), 2016 Gr G Dark Angel ex Lightwood Lady
MAJOR REWARD (IRE), B G Dawn Approach ex Zanzibar Lady
MERRICOURT (IRE), 2016 Gr G Mizzen Mast ex Elite
META MORPH (IRE), 2016 B G Morpheus ex Red Rosanna (unraced)
PHOENIX OPEN (USA), 2016 B C Scat Daddy ex Kate Get Excited
2yo colts/GELDINGS
AGENT ZERO (FR), 2017 Gr G Outstrip ex Miss Vendome
CONVINCER (IRE), 2017 B G Gutaifan ex Deora De
ECLECTOR (GB), 2017 Gr C Gutaifan ex Pilosa
MARCHONS ENSEMBLE (GB), 2016 B G Pour Moi ex Sugar For My Honey
RECENTLY SOLD
TENNESSEE WILDCAT (IRE), 2010 B G Kheleyf ex Windbeneathmywings
HEAVENLY RAINBOW (IRE), 2016 B G Havana Gold ex China Pink
ANDRE AMAR (IRE), 2016 B G Dandy Man ex Heaven's Vault