TWO YEAR OLD DAY AT NAAS, 19TH SEPTEMBER 2018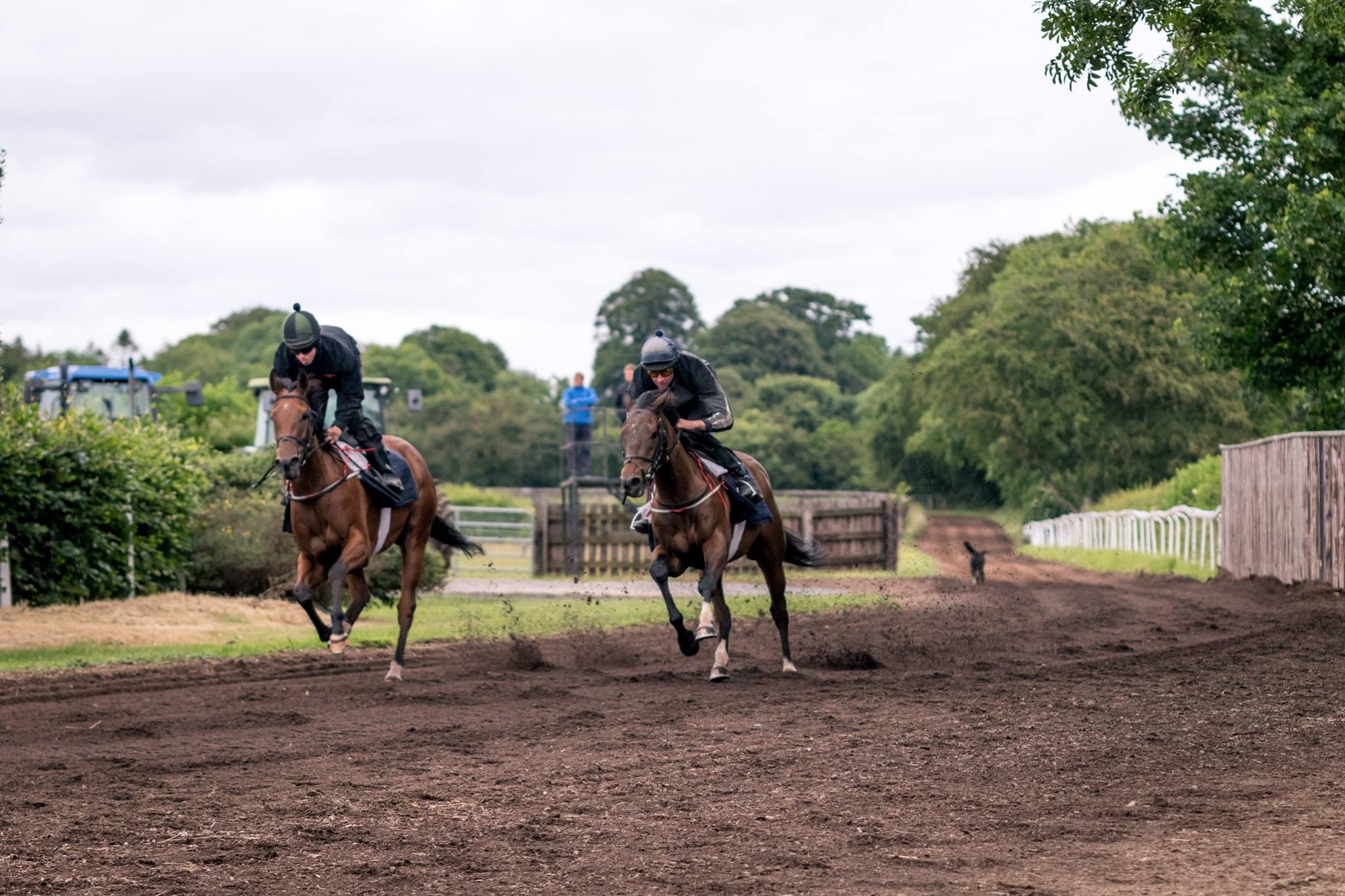 This is one of my favorite days racing as it's a full 2yr old card and we are at the point where it's time to start horses after training them all summer. Obviously you have to be patient with your two year olds and can't run them until they are physically and mentally ready and it can be very frustrating having to wait with some as you are so keen to see them out. Today's card is totally dedicated to the juveniles and it should be a very informative days racing. Hopefully the storm will have blown itself out by start time as race day can be stressful enough for the babies without a gail blowing as well.
I've declared MY LAUREATE in the fillies 6f maiden as she basically only had a day out at Leopardstown on Saturday. She ran way too gassy and just didn't get home and Gary used his head and looked after her. It's always a gamble running back quick but all signs at home are that she's ok to go to post today. This will be a real cavalry charge with twenty coming up the hill.
I've declared two in the colts 6f maiden and that should be the order of the day from here on in as I try to get as many out and educated before the end of the season. Sadly Gary is suspended today and I will miss him on a day like this but Sean steps up to the plate and takes some mounts.
DE LATOUR is a colt that came from the breeze ups and is ready to start here. He has enough speed for 6f but probably wants further and depending how he handles the occasion he should run well. KINCH is a colt that I've always liked but he seems to be a slow learner on track and I drop him back to 6f today for his third run. He should be hitting the line strong today with no excuses and hopefully he can show more today than he has done so far but I'd imagine he will be gelded after this and turned away.
HEAVENLY RAINBOW won first time out and while he's not over big has needed a bit of time since his last run. 5f may be on the sharp side for him but as he's qualified for a nursery and I've nothing else he has been asked to run. Ideally he would appreciate some soft in the description and my worry is that this wind will have dried this track out more than normal for the time of year. I think that on his best day there's another little nursery in him this term.
The 8f median auction maiden filled well and I run another two colts in this race. DUMOURIEZ brings a good level of form into this and he should be competitive but it's a tricky race. This is a lovely colt that is very straightforward and he should appreciate this trip and track and hopefully he's good enough to win as he's probably one of the most experienced in the field. I decided to let PEPPERONI PETE have his third run here as if he can't win he will qualify for nurseries after this which will give him more options. Being by Zoffany I would like to see him have one run with the ground on the slow side so hopefully it's not gone on the quick side today.
GOLD MEMORY planked herself at the stalls on Sunday in the big sales race which was totally unlike her as she's normally bombproof. She has stall tested at home since and as expected behaved fantastically which allowed me declare for this today. She will be more at home over today's trip of 8f and in this company so maybe she knew best on Sunday and made an executive decision and overruled her trainer! Hopefully she can show something today as I've a claimer mapped out for her next start as she dropped below our rating threshold.
The last race is the 'open' 7f maiden which means that you are vulnerable to the better pedigrees and more expensive sales horses. ERICH BLOCH wasn't cheap and he should be able to hold his own in this race. Again he doesn't want it too quick but he still needs to improve on his last run at Roscommon. He did well to get back up for second spot that day as he was badly hindered by another who was too busy blocking him than winning but luckily my lad came back unscathed. He's a real good looking son of Dandy Man and hopefully he can win his maiden this term but he will be vulnerable to a stakes horse at this stage.