TWO GO TO POST AT NAVAN, 15TH OCTOBER 2018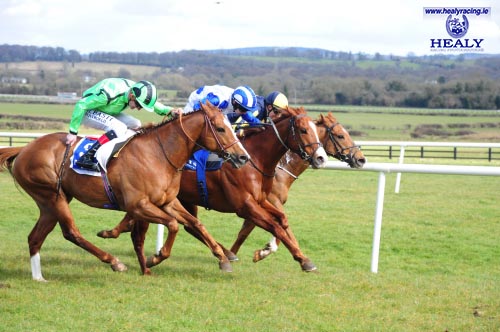 Photo: Medicine Jack lines out for the Waterford Testimonial Listed Stakes at our local track this afternoon, along with stablemate Moonlight Bay. Pic: Healy Racing.
We have been quiet in the last week with runners as some are not quite 100% but I've declared two at Navan this afternoon. The 6f Listed race is a race worth winning and very important for fillies so that's the reason I've declared MEDICINE JACK and MOONLIGHT BAY. Jack has been slowly coming back to form and I'm hopeful that he can have a better year next year in the sprint category. He's not that ground dependent but seems better with juice in it, Colin will ride him.
MOONLIGHT BAY is having her first start since this time last year as we gave her plenty of time to grow up and she definitely wants a soft surface and the dry summer didn't allow her run. Of course it's very important to get a filly some Blacktype and while we declared on good to Firm we were hoping that the forecasted rain would come and change the ground. It's now on the yielding side but she will be better when it's heavy but it's nice to start her finally, Gary rides her.
Following 22mm of rain in the past 24hrs the ground @NavanRacecourse today is now yielding, good to yielding in places. Dry day forecast.