TUESDAY MEETING AT NAAS, 2ND OCTOBER 2018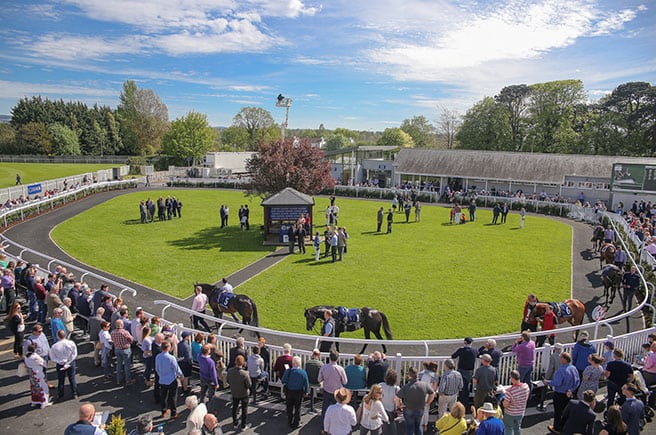 Photo: Back to Naas this afternoon for an additional meeting where we have 4 runners.
We head back to Naas today for an extra meeting that was added to the program only last week and as I love racing at this track I'm very grateful for it. I've declared four for today's card which includes three lovely two year old colts and the old boy SONG OF NAMIBIA in the last race. He hasn't hit any sort of form this year and I think we will send him jumping at the end of the flat season once we put a syndicate together for him. All we can hope for today is a good solid run but the old boy seems to have his own ideas at this stage and what I think doesn't seem to matter!
I run two colts in the second race which is a maiden for 2yr olds over 7f. DE LATOUR has his second start after running ok here a couple of weeks ago over 6f. I like running them first time over shorter trips but I think I was wrong running this lad over 6f as I think he will actually get the mile this year. I was delighted to see this race put on and with the ground still good and quick we let him take his chance. Hopefully he can step up and be very competitive today to get us back in the winners enclosure.
I also start MERRICOURT here whom I now remember as I write this is a gelding! That's one of the benefits for me of writing this blog as it does focus my mind on the runners and for thirty minutes or so that it takes me I find it very beneficial. So while you guys are getting something from the blog you may be surprised to know that so do I. This is the first by Mizzenmast that I've trained and we gelded him as he had got too heavy early doors and it was affecting his action. He hasn't looked back since and while he will improve for today's experience I do think that he can run well under Gary Carroll.
We also have a maiden over 8f for two yr olds and again I introduce a colt by a sire that I've not had before in LOCK SEVENTEEN by Kittens Joy. This is a lovely big colt that comes from the famous Yeomanstown Nursery and when they put one in training here, you know it can gallop. I've liked this lad from day one but he has always been one that will need a trip and we won't see the best of him until next summer over 10f and maybe further. We've worked him all summer and given him all the time that was needed and it was imperative to get him to the track now and today's performance will tell us whether or not we will give him a second start this term. He's not blessed with speed and I will be interested to see him run and hope that he's one to look forward to over the winter months as he quite literally could be anything.