THREE RUNNERS AT FAIRYHOUSE THIS EVENING, 15TH JUNE 2018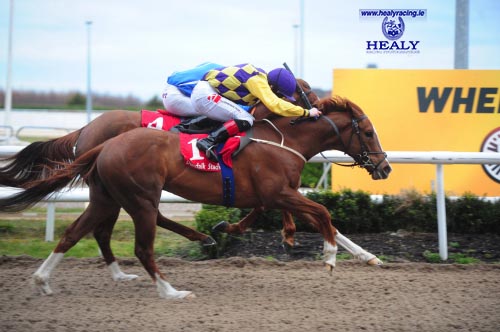 Photo: It's All A Joke runs in the Summer Family Fun Day July 8th at Fairyhouse this evening, with Gary on board, while Colin rides Kodi Koh in the same race. Pic: Healy Racing.
Staying local again tonight with racing at Fairyhouse where we had a very good first visit last meeting with three winners on that card. I've only declared three to run tonight and two of them are in the 6f 3yr old handicap and we introduce a 2yr old filly.
We kick off proceedings with a 2yr old filly in the 6f fillies maiden, MY LAUREATE is a beautiful sister to My Mystique and Insayshable and a half sister to Ainippe. If she's as good as any of them then I will be happy and I like what I've seen at home so far and she is just ready to start. Realistically I was a tad worried that the ground would be too firm to risk starting her but I'm told it will be a lovely surface to race on. Ainippe was very fast and I do feel that this lady takes after her more so than the others but being by Rajj I would expect her to eventually get much further. As always usual rules will apply, a good honest introduction and just make sure that she is left with a good taste for racing in the future. A win will be a bonus.
As I already mentioned I run two in the 45-70 6f handicap and jockey bookings would suggest that KODI KOH is our #1 but really it's just a hopeful entry in her first handicap purely because she qualified to run being rated just 65. Basically my thoughts are that if she can't perform at this level regardless of the trip then we don't need her. Being by Kodiac gives me hope that she will handle this drop in trip but as you will have noticed I've already tried her over an array of trips so far. At home she certainly doesn't show 6f speed but at this level it's worth a try and we have nothing to lose in trying. With her page a win is important and then we would concentrate on raising her rating to make her an attractive prospect for breeding. Easier said than done!
ITS ALL JOKE has been very disappointing on turf this season and is dropping down the grade with each run and is another that probably has at least one hoof out the front gate! On his best form then he should take all the beating in this race but he needs to run to form again to do so and recent runs don't fill us with any confidence. I've no idea why his form has dropped and sometimes this type of horse presents more of a challenge to win with than the better sort but I will keep trying for the time being. Definition of insanity is doing the same things over and over and expecting different results...... A very apt description of a race horse trainer I think!