Busy day for the team as we send 5 runners to post at home and abroad.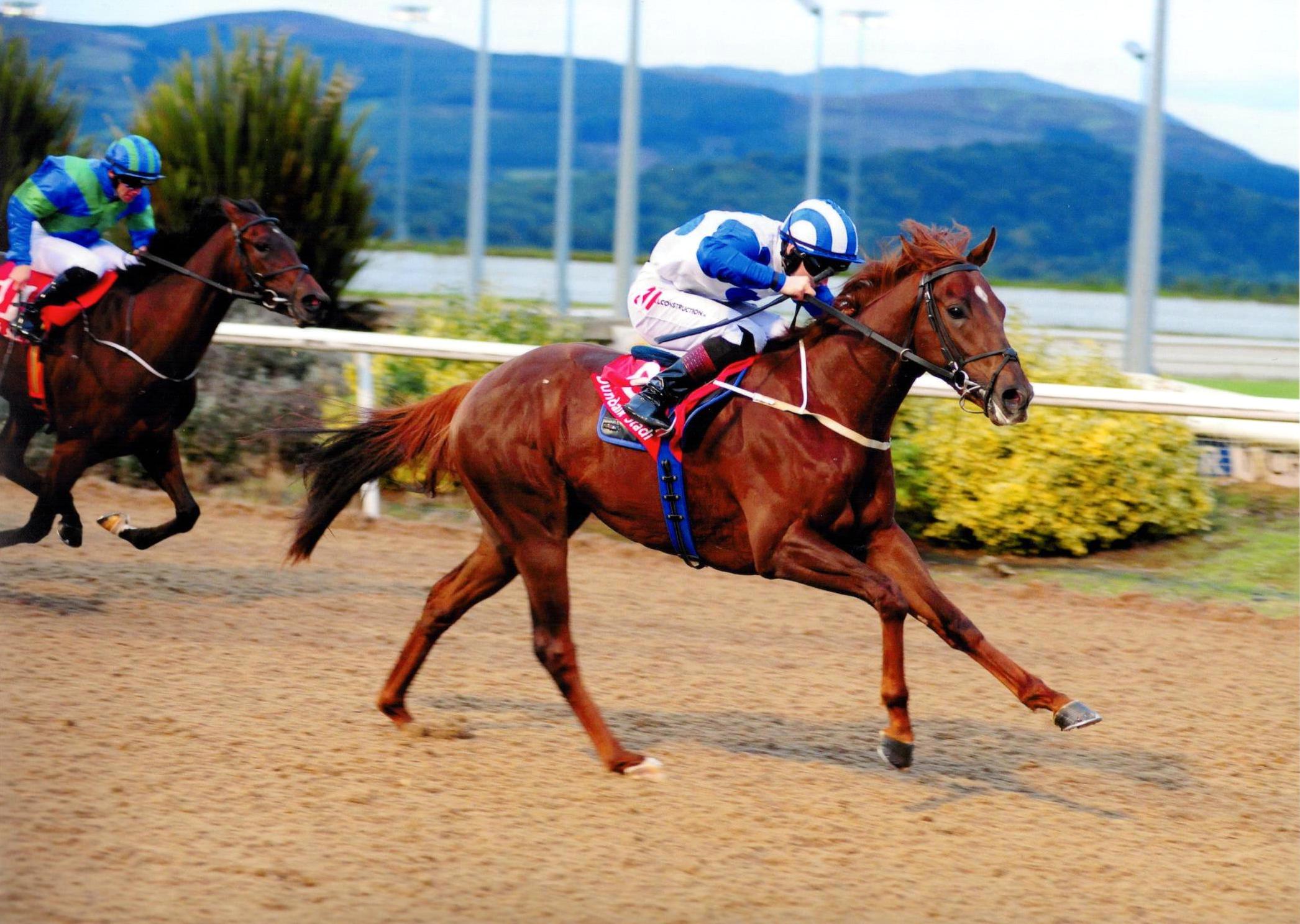 Picture: Glastonbury Song winning his maiden in style at Dundalk.
It's been a busy week and I was down at Goresbridge yesterday having a look at a few Breeze up horses and I think we took 4/5 home with us in our quest for another diamond. It was a strong trade and this sale seems to be getting stronger every year. I assume it's here to stay and well set into the calendar even though I'm not a fan of Breeze ups in general, plenty of winners come out of this sale.
We are racing at both the Curragh and at Haydock with 4 at HQ and MEDICINE JACK having his seasonal debut across the water. He won the Railway Stks last year and so would have had to concede a GR2 penalty in any race at home before now. To be honest, the way he has been working hasn't filled us with any confidence and so we kept waiting and waiting and finally we've had to press the go button. On his best form he would run placed in this and I would accept a good honest run that we can build on. Hopefully Gary can ride him to run well and we can then plan a campaign with him for the future. I have always felt that Equianos' need a bit of juice in the ground to be at their best so any rainfall would help.
CW 493kgs
LW 462kgs
I give Keanan Steyn his first ride for us on IL PICCOLO GRANDE in the 6f handicap. Keanan does minimum weight and I imagine he will fly over here once folk cotton on to him. He's ridden a few hundred winners and I've been impressed with him at home since he arrived from South Africa. As for the horse? He disappointed us on his first start by running too free and not getting home so we've taken the view that a drop in trip was the best way to go forward. He has ability and once we join all the dots with him we should have some fun.
CW 520kgs
LR 508kgs
WOULD BE KING ran well on debut and as expected he will have improved a good bit for that run. He will want 7f no doubt in time but as we like him a lot we've decided to have a look at the Marble Hill which this year is over 6f (it has always been run over minimum trip in the past). Depending how we run will decide if we have a Coventry Colt which is always a priority at this time of the year. I'm very hopeful of having a good season with this lad once we step him up in trip.
CW 452kgs
LR 456kgs
I'm delighted to have another horse good enough to take part in a Classic and even more so to have one of the six runners going to post in today's 2000GNS .
GLASTONBURY SONG has always been high on our lists here and he has been very impressive on his two victories at Dundalk. The one blot on his cv is his first start on turf this season at Leopardstown. He was very fresh and colty when saddling up that afternoon and Colin reported that he was very agitated down at the start where he eventually completely missed the break and did well to run any sort of race at all. I would be hopeful of a good run but stepping up to GR1 company could prove difficult for all bar two of today's runners who have already won at this level. We think we are definitely at GR3 and hopefully GR2 level so fingers crossed for a big run.
CW 443kgs
LW 447kgs
SONG OF NAMIBIA returns after his victory at Limerick last month when he showed massive improvement wearing blinkers. He is rated 9lbs higher for today's race which is acceptable and we are hopeful that it won't stop him. He doesn't seem to be overly ground dependent which is great and I would like to think that he can run another big race.
CW 470kgs
LW 480kgs
Comments