Our season begins at Naas today with 5 runners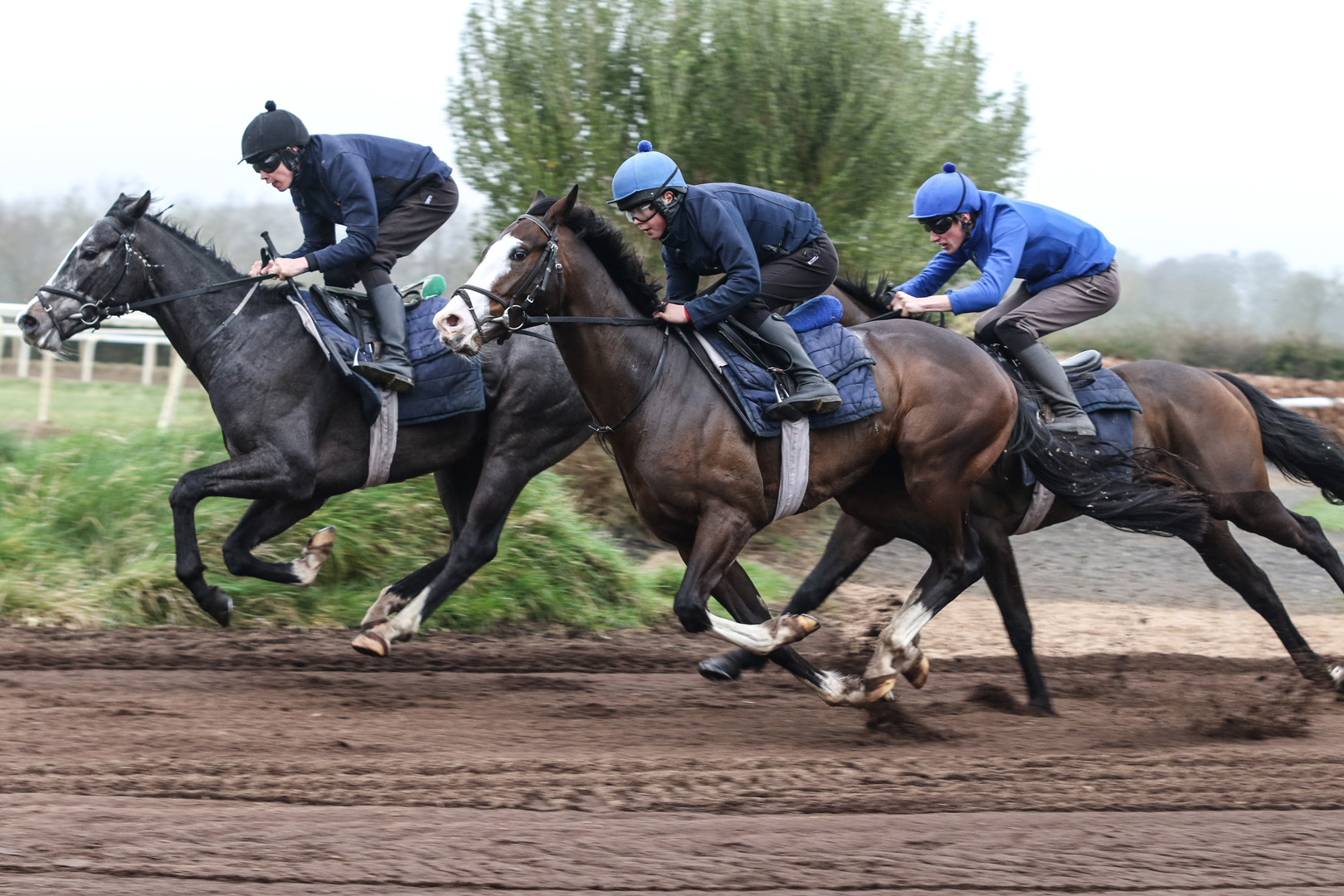 Same **** different year!
Hello and welcome back to Ger's blog which kicks off again today after a lovely long rest since we last spoke back in November. It was a lovely mild winter here and we got a very good prep into our team over the last few months. The stable is full here with 91 stables and we are lucky to have two great horsemen in Gerry Keane and Ronnie Boland who help as our second yard and isolation farm, a system I find invaluable in the health and welfare of our string.
As always we kick off today at Naas for their Lincoln meeting and it's a busy card with eight races and I've declared five for today's meeting. The ground is soft to heavy which is what we would expect at this time of the year but the poor jumping lads haven't had it all winter and we would expect to run the Lincoln with a bit of juice so normal service has resumed.
This year's team will be made up of 80+ 3yr olds with approximately 55 2yr olds and a handful of older lads. I hope and expect that there will be plenty of maiden winners amongst them and it's fingers crossed that one or two of them will step up and be above average. I'm getting older and it's hoped a bit wiser with every season under my belt and I think that my training will benefit as every year passes. We've a great team here with a good system and it's all systems go for 2019.
The first race that has our attention is the Madrid Handicap over 7f which is always a smart contest and one that I like to have one ready for. With the ground as it is ZANDER gets my vote to represent us even though he would ideally like to run at a mile minimum. He's fit and well and showed us last year that he wants it soft to be at his best and I'm going 7f for today as it's the first race of the season but I'd doubt that we will see him run this short in the future. He should be good enough to lie up with them and his stamina should help him get home but will more than likely be done for speed at the business end but hopefully he can collect some prize money.
The 100k Lincoln is today's main attraction and a full field goes to post with three reserves . I've declared two in this and one I really wanted to run (Bobby Boy) didn't get in. KARAWAAN is a new recruit this season that Gaelic bought at last years horses in training sale from the Sir Michael Stoute yard. He's by Sea the Stars and in my opinion will want at least another two furlongs to be at his best but is ready to start and gives the impression that he will enjoy the conditions. With what we are seeing at home our only concern is the 8f as he's not the quickest but he's fit and should handle the ground and I'm hoping he can run well so that we can make a plan with him for the future. TONY THE GENT was kept busy over the winter at Dundalk in the hope that my two apprentices would gain some experience but as he was so honest and consistent the handicapper raised him 6/7lbs for some placed efforts and so came into play for today's race. I've two cracking apprentices this year that I will do my best to promote as both have worked hard and improved plenty over the winter. Riding up to a dozen pieces of work every Wednesday and Saturday with Colin, Gary and Donnagh is a huge plus for them and it's not surprising that they are improving for it. Johnny Shinnick gets the leg up today as it's his turn and any prize money collected would be a bonus.
The last race is the 3yr old maiden over 7f and I've got two that got in from the four that I declared on Friday. BASIC LAW is a nice gelding by Lawman having his first start for a new client of mine from Hong Kong. He's been a slow maturer but is ready to have a day out and we think that he can handle some dig in the ground. There's not much between my two and it's just dawned on me that I didn't even ask Colin which one he'd like to ride as I just felt that THE VIRGINIAN was that bit more forward for today. Both horses were brought along very slowly last year, stopping and starting as required to let them grow. THE VIRGINIAN is by a sire (Strong Mandate) that I'm not familiar with but this is a smashing big, imposing colt with a great attitude that I think has a certain level of ability. I'm looking forward to seeing how both run as I think that they both can win their maidens with today's experience under their belts.
I will do my best to keep you updated throughout the season but please do not confuse this piece with a tipping page as it's not how I operate. You will get a full and frank view of my runners for the day and rest assured that all will be doing their best whatever that may bring. I genuinely don't expect any winners today but just hope that they run well and show me enough to make future plans with.
HGD
GER