SIX DECLARED FOR FAIRYHOUSE, 24TH SEPTEMBER 2018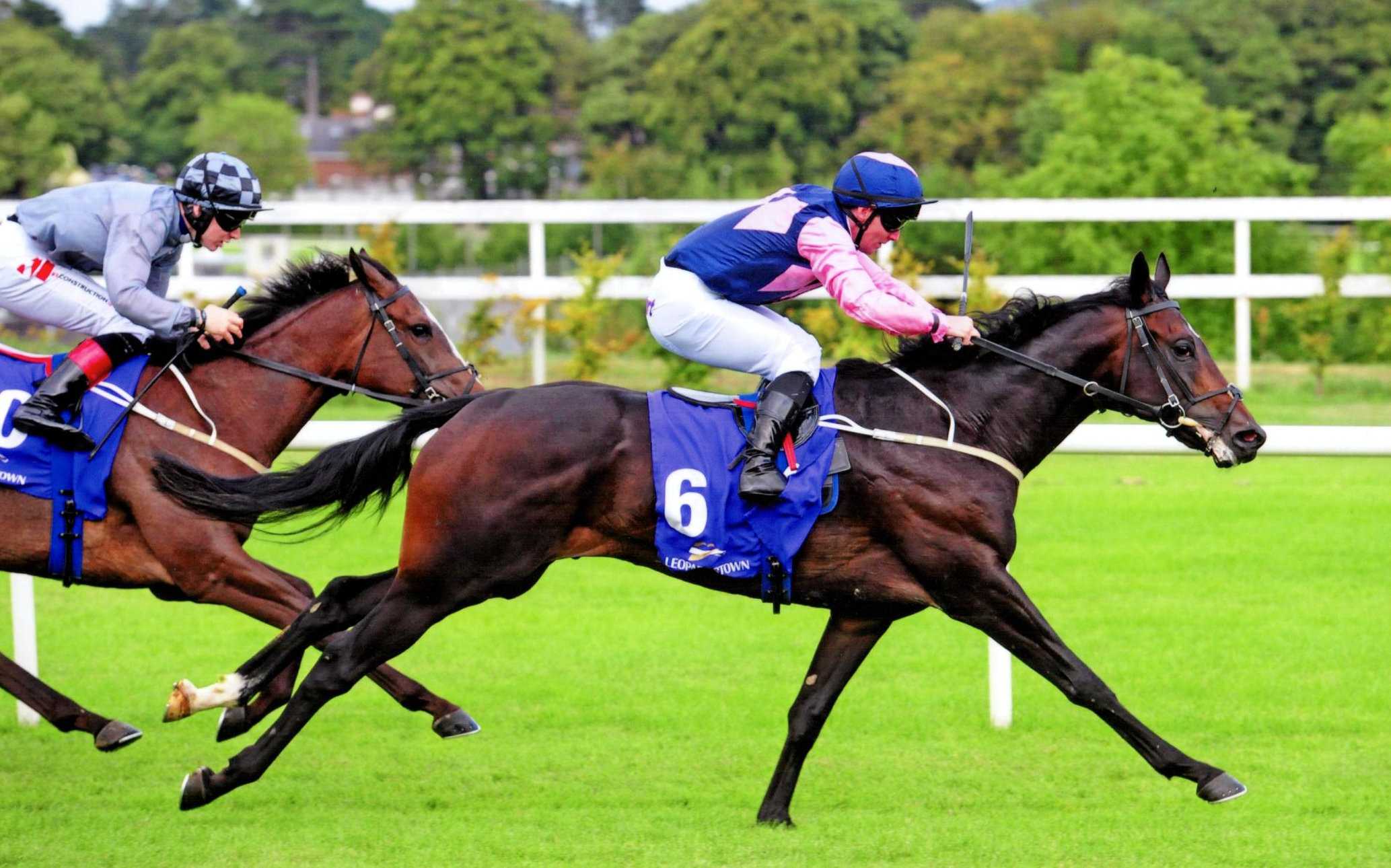 Photo: Inverleigh represents us in the Listed Ballyhane Blenheim Stakes (6f) at Fairyhouse as he bids to follow up his maiden win at Leopardstown in early August. Pic: Healy Racing.
The start of another busy week at the sales but at least we are shopping locally (Tatts Ire) and racing today is also just down the road at Fairyhouse, so really things could be worse! It's an eight race card today and we've declared on very close to Good ground and at the very worst I would expect some yielding in it today after a dry weekend.
I've six runners today, four of which are two year olds and as I've been saying for the last month, we are now building for next season and introducing a lot of un-raced two year olds and are expecting to be quiet on the winners front. I suppose it's a good sign when folk expect you to be churning out winners every day but it's simply not possible over here in this environment.
We kick off with a lowly claimer and we've dropped GOLD MEMORY in here as she hasn't shown us enough to want to keep her. Ironically we found her at this sale last year so it's fitting that she is back here in the hope of moving her on again! This race is probably a too highly priced claimer with top price of 50k as I doubt we will have players at that level over here. Our lady (20k) got the trip well at Naas and hopefully Séan can be positive on her and be good enough to be involved. Her only negative seems to be at the stalls as twice now she has seemed reluctant.
ANCESTRAL has been frustrating since posting a nice run on debut and is giving the impression that it's a trip thing. We drop her back to 7f today which I would have felt was too short on anything we see at home and she has blinkers on to make sure she keeps focused on the job in hand. Gary rides most this week as Colin sits out a three day suspension.
The Forans races have proved very popular this season and we are all aiming at the valuable final at Naas next month. Basically, if you run in a Foran's qualifier you automatically qualify for the final and this is what I am doing with THIEF OF JOY today. I would expect that 6f is on the sharp side for him but that he has enough natural pace to run well and then step up to 7f for the final race. He's a grand sort that has needed all the time that we've given him and this is a nice race to introduce him and teach him plenty.
RITA LEVI has bumped into some smart sorts to this point and drops into handicap company for the first time here. There's a case to argue re her optimum trip and while we could step her up I feel a lot of her problem is more weakness than anything else. She is taking her racing well and should win at two but should be a better sort next summer after a winter's break.
The Ballyhane Blenheim Listed Stks is today's highlight and we run INVERLEIGH back in this valuable race. None of us were surprised to see him win on debut when beating our own Burmese Waltz who has since franked that form. Colin rode the filly that day as she had the benefit of previous experience but we knew that this lad, if doing everything right, was the better of the two and so it proved. We think that he will be better over 7f but this race was worth having a look at as it's on our doorstep and the ground stayed on the good side. We have the option of stepping up to 7f at Dundalk next time if today doesn't pan out but I would expect him to be in the shakeup today first.
The last race gives us the opportunity to start the career of young Johnny Shinnick. He only had his licence interview last Wednesday and it's great to give him a quick start today. TENNESSEE WILDCAT is the perfect horse to give a young lad a first race ride and Johnny will prove very good value for 10lbs in time. From a farming background in Fermoy Co Cork this lad should have a bright future if he can stay small and light but is a very natural horseman and is a pleasure to have on our team.