SEVEN RUNNERS AT DUNDALK, 30TH OCTOBER 2019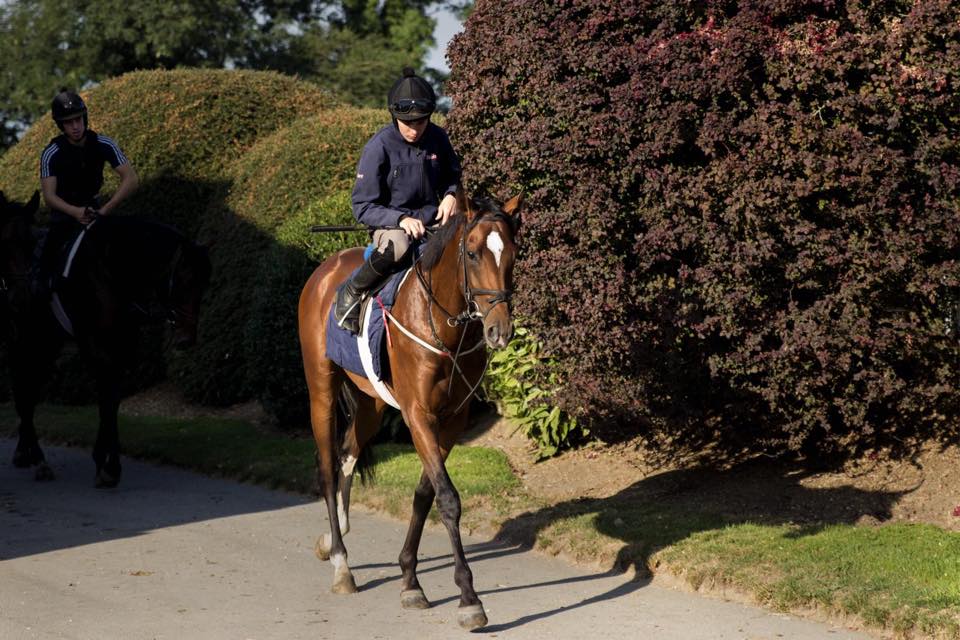 Phoenix Cowboy has his first outing in the 7 furlong maiden at Dundalk this evening for owner Mark Breen. Photo: Hannah Donohue.
Back up to Dundalk for the last of three meetings left of this season. I've declared seven to run in the card as I try and get as much done as possible before the end on Sunday. We won't be that busy throughout the winter series as I'm not keeping horses going for the sake of it.
WILD ABANDON is a well related Kingman filly that was sent over in the hope of winning a little race. She had a wind operation before she came to me and had a UK rating of 70. This doesn't look the strongest of races but I'm not sure that my filly is up to anything above her rating and to be honest I will be happy if she actually runs to it today. I'm putting blinkers on her as she won't get a second start unless she runs well in this.
MERRICOURT is a course and distance winner and should be again competitive in today's claimer. We have him in at €20k and should prove attractive to anyone wanting some action over the coming months, he still should have improvement in him.
I run two in the 8f 0-85 handicap with Colin riding KAFU. He has the better draw in stall 1 and seems to be improving as I step him up in trip. We have kept him on the team as we hope that he can mature into a better 4yr old. He really has been a slow learner but natural ability allowed him win at two which led us to believe that he was faster than he is.
Gary rides PHOENIX OPEN who is a solid colt by Scat Daddy. Unfortunately he has the worst draw but we think that there's another win in him up here. There has been a bit of interest in him and I'd expect we will move him on once the season is over.
I'm starting two newbies in the 7f maiden as both have been on the go all summer and need to learn what racing is about. The colt PHOENIX COWBOY is by Gleneagles and has been trained with next year in mind. Gary rides him and while today's 7f will be on the sharp side for him I wanted him up here as I felt that his pedigree didn't show signs of needing soft or heavy going. I'm looking forward to seeing him run and we can decide after tonight's race whether we will go again or not.
ABEONA is a nice filly by Acclamation that should appreciate this trip and surface. With what I'm seeing at home she should be sharper than the colt today but will still need the experience. Again, we will decide after tonight's race whether we will go again before Xmas or put her away until next season.
PLAIN TREE FAIRY has definitely improved for all the time we have given her and while she is no star I feel that she could be well handicapped off 60. Sadly off this rating she has been balloted out a lot recently and she runs here because she was getting in. This is one of the reasons that I don't persevere with the lower rated ones as you just can't make a plan. Winning a wee race with this lady would justify the years work and would be a welcome winner for some patient owners. Sadly stall 12 is not ideal but something we will have to overcome to win. A step up from her last run should see her in the hunt and hopefully she sees the 7f out a bit better as I did feel that 6f was the way to go after that run but it's hard to get everything right.
HGD