OPENING NIGHT OF DERBY WEEKEND, 29TH JUNE 2018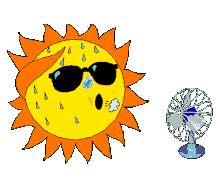 I've declared three to run on tonight's opener to the Derby weekend at the Curragh. This heat is fantastic after such a wet winter but it's borderline bearable for the horse. We were travelling into Naas the other evening and Lynne informed me that at 31c we were hotter than Bridgetown Barbados at 28c! Now I'd say that was a first and the heat has been the same since which is hard for the race courses to produce safe ground to race on. I suppose in one sense they can water away as they know there's no rain due in but on the other hand they've to work through the night to water as there's no point watering during the day as it will just burn off. Either way they're work load has increased now to provide safe going.
I'm introducing a Kodiac filly QUEEN MEDB (Maeve) in the first race who is ready to start and my only concern would be the ground as I would like a kind introduction with no risk of jarring her. We like her and she probably is typical of the progeny in that she loves her job and I'd imagine will thrive on racing. As usual, as this is her first outing on turf, I'm looking forward to her starting but would hope for and expect plenty of improvement. The syndicate have only run one of their two year olds so far (Kestrel Prince) and he won on his debut at Roscommon so no pressure tonight!
CASIMIRO is aptly named as the World Cup plays out in Russia and this gelding won well last start over 7f at Leopardstown. Colin and David have long felt that a stiff 6f would suit him and we chose this race rather than upping in grade over 7f in the hope of keeping the winning sequence going. Top weight shouldn't be a problem as he's a strong horse and it means that he's officially the best horse in the race so now let's hope that he can win like one.
BUCKY LARSON is another having a good season and he's won two from four this term and I step him up in trip tonight to 10f to try and achieve three in a row. I held entries in other races this week but the fast ground and 3yrs only was the attraction here and we think he will get the extra two furlongs too but not certain. He really is thriving at the moment, looks great and is getting stronger by the day and has another very obvious chance here.
So three nice runners tonight with two very obvious chances and now all we need is a bit of luck in running. Hopefully the sun cools down a bit for racing as we don't need any horses to suffer from the heat which is something you don't hear too often on an Irish racecourse!