We're heading to Leopardstown on a glorious Autumnal day.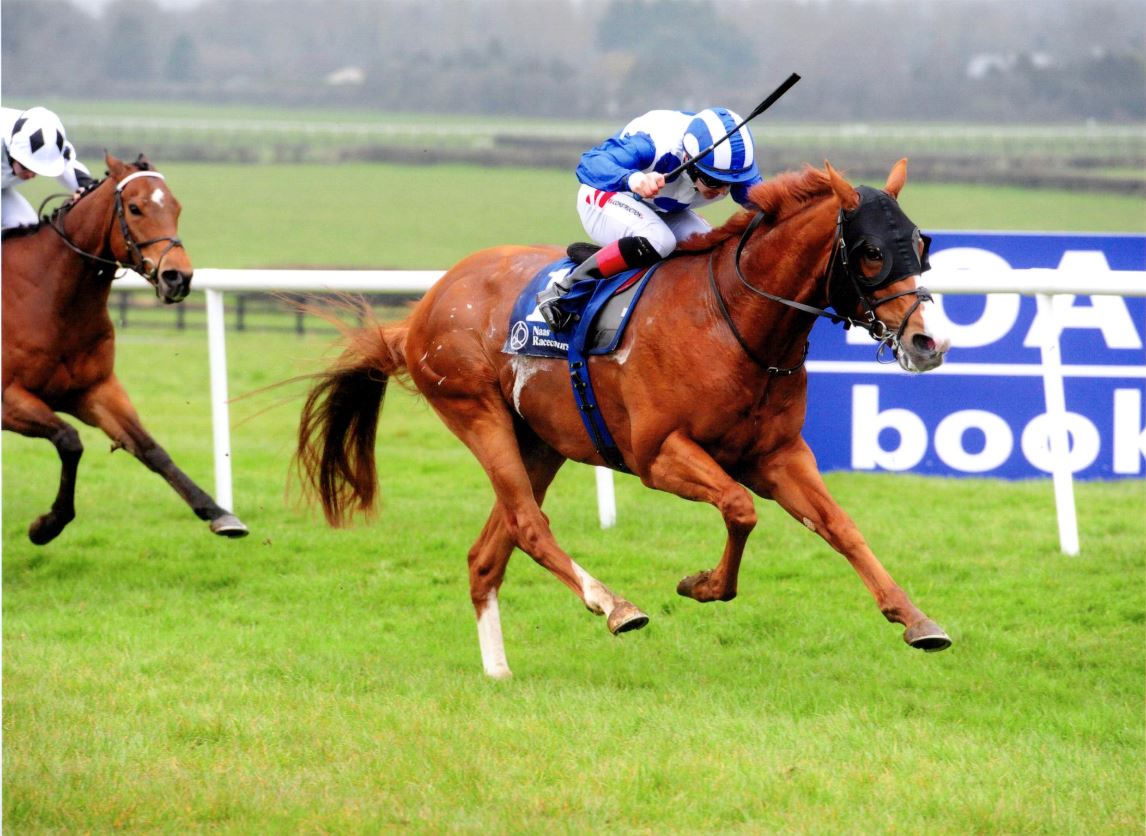 Photo: Psychedelic Funk winning the Gr3 Gladness Stakes earlier in the year.
We are back at Leopardstown again today for their last meeting of the season and I'm throwing everything that is alive and well at the card. If it was a different time of the year I would probably run a lot less but as this will be the last run for these horses I've decided to run them all. We raced here last Saturday and Colin described the ground as beautiful and it's hard to believe in October that it has dried up and we have firm in the description again! I have horses here that just haven't got their preferred ground all season which is quite unbelievable here in Ireland but it's happened and nothing we can do about it.
I'm starting KAFTAN in the first in order to give her a run on the grass for experience. She is the first by Dansili that I've trained and while she's not a big gross filly, she has needed all the time that we've given her to mature. How she runs and behaves today will decide if we need to run her up in Dundalk after this to win her maiden or whether we will put her away until next season. It's always interesting seeing this type start as they show you different traits on the track then at home and as I'm an optimistic sort, I always live in hope of unearthing a diamond!
MY LAUREATE is another slow maturing filly that is precocious at home but realistically is also more a next year sort. Apart from Annippe all of her siblings have needed time to mature but all had ability. As she qualified for this nursery I decided to let her run as it may be easier than trying to win a maiden at the moment. If she does things right and doesn't rush then I do think that she can win a race like this but it still comes back to how mentally ready she is on the day.
The firm ground this summer has hindered PSYCHEDELIC FUNK'S season and I've no explanation for his dismal performance the last day at Tipperary. I do think that a big colt like this needs to be running regularly to keep his game face on and huge gaps between runs is not ideal. Ideally he needs soft in the description but he has form on fast ground and I'm basically running today as it's our last option of the year and it would be nice to put the last day behind us with a positive run today.
OMRAN won well the last day at Naas beating our own Bucky Larson and we let Bucky run last Saturday (3rd) so it's Omran's turn today. He seems well and must have a competitive chance today but these handicaps are seriously competitive and we need luck on our side to win.
I'm running two in the final juvenile pattern race of the season the GR3 EYREFIELD STKS over 9f. ZANDER has matured all summer into a beautiful strong colt and seems to be at his best on a soft surface but I'm sure that he can handle today's conditions too. He will love the trip and stay every yard of it but I would rather that it was softer ground for him as he's training well and seems in good form with himself, he is one to look forward to next season.
I'm also running KESTREL PRINCE here because he's well and should handle the conditions and while he's wrong on ratings he is going to have a good break after this so we've nothing to lose. I thought that he ran a funny race at Naas last Sunday as he was behind the bridle all the way but still stayed at it and ran ok.
MAWAANY has probably been unlucky not to have won a big handicap in the last two seasons but always seems to find a sneaky one to beat him. He is a lovely horse to train and needs to run as he does nothing at home. Again this will probably be his last start so we were keen to get him out again and would rather more ease in the ground for him but cest la vie!
We run SONG OF NAMIBIA in the Corinthian Challenge Race in aid of the Injured Jockeys Fund and Orla McKenna takes the ride. I worked with Orla when we were with Jimmy Fitzgerald and she is a sister to Mark Dwyer who was our stable jockey at the time. Orla is very experienced and it's our pleasure to be able to give her a spin in this today. As I've said to her already, if Song is on a going day then she will have a great spin and it's important to let him think he's in charge, if he's not on a going day then I do hope that she's fit!
HGD