Newmarket and Dundalk todag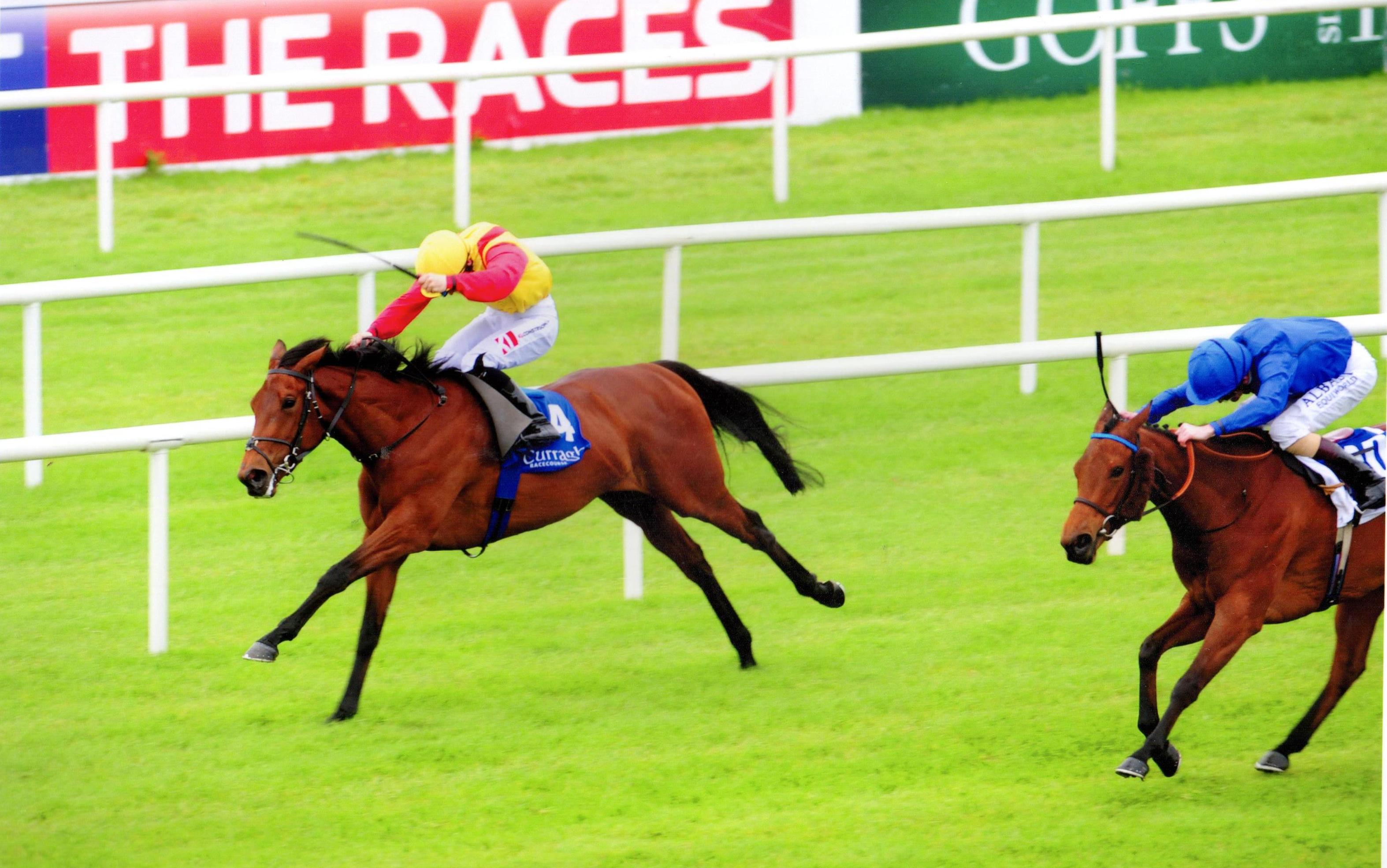 Pic: Elegant Pose
We have five runners across the cards today, two over at Newmarket and three here at Dundalk. Shane and his squad travelled over on Friday evening with the two Newmarket runners while Andrew looks after the home team. Thankfully the ground is gradually drying up and we look forward to a lovely card at Naas tomorrow on what should be the best ground we've had this year.
ANDRE AMAR goes to post in the 5f two year old maiden and is one of five that have been declared. I'm happy he's ready to start but he can be guilty of star gazing at home and Gary could be busy keeping this colt's mind on the job. One of our nicer colts found one too good on Wednesday evening here and I'd be surprised if that wasn't the case again today. Ours are trained to improve from their first start and I never put any pressure on them to win first time. As always a tap behind the saddle to win otherwise leave them with a nice taste in their mouth from today's experience.
LADY NATHANIEL has her first start back after her winter break and she looks to have matured nicely for that break. On the face of it she has been disappointing and you could argue that she looks a bit trip-less but hopefully she is handicapped to win a race of this nature and then we can step up from there. As a physical she is a gorgeous sort and hopefully we can win one or two with her before she eventually goes to the paddocks.
DALIYAH steps back up to 7f again today as the boys are adamant that she wants this trip. My problem is that she doesn't help herself to get the trip as she can run a bit free at times. That said, it would be an ordinary maiden that she wins and realistically is a low grade handicapper for the rest of the year but I would feel unlucky if we can't win at least one race with her.
While we are keeping the home fires burning, ELEGANT POSE goes for a GR2 at Newmarket in the Dahlia Stks. Only seven entered for this race and it was very obvious to us that at least one from a big outfit would supplement. Godolphin have supplemented a Breeders Cup winner which takes away from our initial enterprise of entering but I'm still happy for 'Brenda' to take her chance. The important thing about a race like this is the very valuable Blacktype that they win if they run in the first three. She is in good nick and will have improved from her first start and should appreciate the nicer ground she will encounter today. My only reservation is how she will handle the famous Dip at this track, I know it would have found her out last year but I'm hopeful that she's mature enough to cope with it today. Another first three placing today would make her a very valuable breeding commodity. She is one of my favourites and one that I've been looking forward to this year.
MEDICINE JACK won his GR2 at two, was impossible to train last year and bounced back on his first start this year at Naas with a hard fought victory on heavy ground. He should appreciate this going a bit better today but he really is an enigma as his home work is woeful! We mapped this race out for him immediately after Naas as (a) it's a valuable pot and (b) it will tell us where he stands going forward for the summer sprints. As I've already said, his home work is shocking and if he had to travel over here on his own, I'm not sure that I'd have sent him. Worse case scenario he is company for the filly but hopefully he saves his best for the track!
HGD
PS: The authorities and this track moved fixtures around and changed the distance of the Patton Stks to enable a Kentucky Derby dream (to the detriment of the program). If only they used their natural resources and flooded the track, then they would have covered every angle!
Maybe next year ;-)
​​​​
Comments