Gladness Stakes (Gr3) - Naas 13/04/18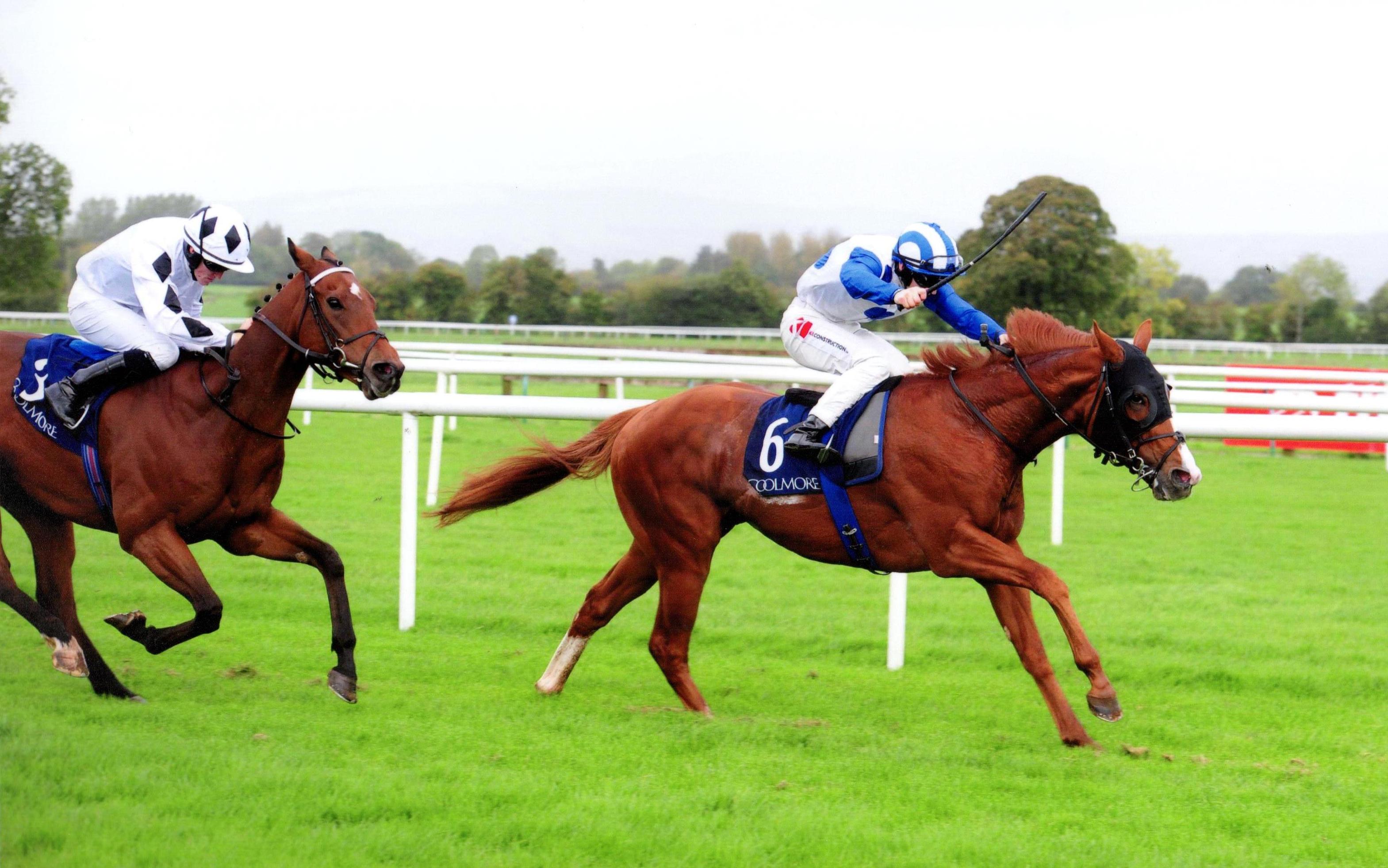 Photo: Psychedelic Funk runs in the Gladness Stakes (Gr3) over 7f in Naas today. Pictured above .winning the Coolmore Stud Home Of Champions Concorde Stakes (Gr 3) in Tipperary on 1st October 2017.
We are back on the turf today at Naas for the rescheduled Gladness Stks and Alleged Stks card. The ground is probably no better than it was on the original day as the weather has been continually poor since and is officially Heavy, soft to heavy in places.
I've declared five for the day which in figures is nearly 10% of the card! The fillies 6f maiden is our first involvement and I'm sending two to post here as they are fit and I think will handle conditions as well as most. DALIYAH ran well here on the first day and was game to stay on to be 5th in a decent race. A repeat of that run would see her placed today and I'm glad to say that she is finally starting to race properly as last year she did rush a bit. At the end of the day she is a fun filly for the team that we'd hope will put a win or two on the board but ultimately it would be an ordinary maiden if she won.
Colin has chosen SCREAM today in what I'm sure was a toss of a coin decision. She needed her run a bit more than expected at Cork and they reported that the ground was horrendous that day which basically suited no one! I'm adamant that she will need some juice to be at her best but extreme conditions may not be ideal and the drop in trip today should also help her. This is her third run and so should qualify for handicaps after this which will give us more options for Pulse Racing Syndicate to have some fun with her.
The Gladness Gr3 is one of two Groupp 3 races on today's card and we give PSYCHEDELIC FUNK his first start if the year. He's grown into a big strapping strong colt and it's taking me a lot of hard graft to get him to this stage of fitness. He handles most ground conditions except firm and is as fit as I can get him without a run. Normally I wouldn't start them back with headgear but this fella gives me the impression that he's better with some gear regardless. The team stopped me gelding him through the winter and time will tell whether that was clever or not as there comes a time when it's too late to do so. Anyway he's one of our big players and it's great to be starting him back today even though he has to concede a lot of weight to the rest due to his penalties. I will be happy with a good positive run which may encourage us to aim a bit higher later on in the season. .
The other GR3 is the 10f Alleged Stks and CANNONBALL is being sent to do battle against a very determined Ballydoyle brigade! Aidan runs three of the five runners and has us cooked on ratings but I'm happy that this is a good place to start the big horse back. He handles this going and 10f is his trip and he is fit and healthy and ready to run. This will help us make a plan with him for the season and instead of us paying to gallop we will get paid to run today! This race is a fine example of how hard it's going to be to compete over here this year or any year for that matter!
The handicapper probably has TONY THE GENT at the moment and the only way to counter that is to run him. He's a grand sort that's probably gone a bit lazy at home and it makes sense to get another run into him today even though he has a lot of weight to carry. For that reason we are claiming off him with our apprentice Sean Davies who should prove a good addition to our team this season. I see that two of our previous team Harvey Specter and Sandstorming are in the field which is good to see at this level.
KING D'ARGENT ran well here on the opening day when placed 6th behind our winner Bobby Boy. He was pretty tired after that run and wouldn't have made this race on its original date but seems well enough to run today. As with all Irish maidens it's never easy to win one but the step up in trip and a run under his belt should see him improve enough to be involved today but a good one will still beat him. I can see this lad stepping up in trip even further in time as I'd say that stamina will be his forte.
Some nice runners to keep us interested and a winner would be a bonus especially if it's one of the Group races!