FIRST TRIP BACK TO LEOPARDSTOWN WITH SIX DECLARED, 3RD APRIL 2019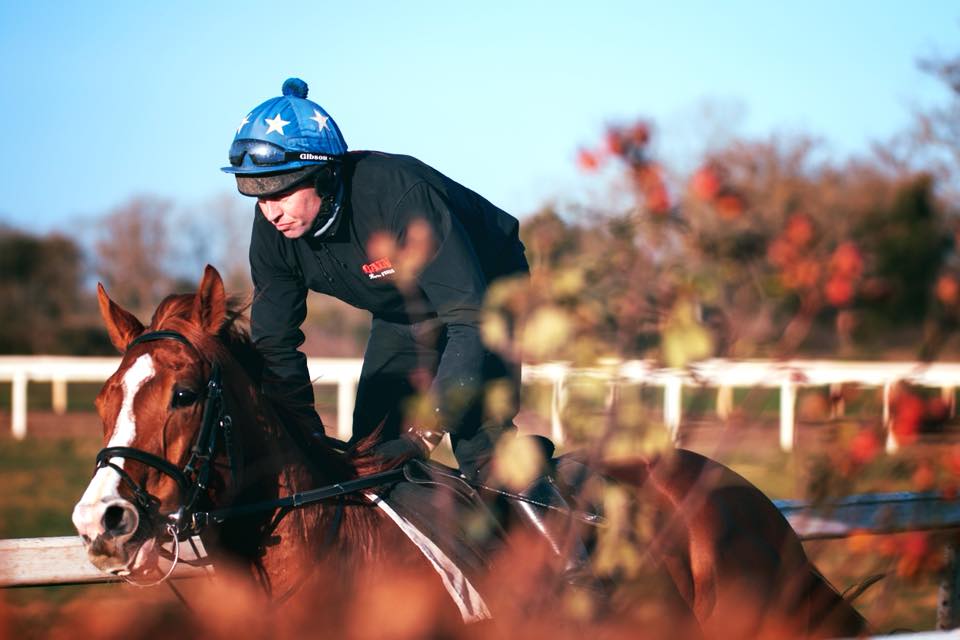 Psychedelic Funk, who runs in the Listed Heritage Stakes (1 mile) at Leopardstown this afternoon, is one of our six runners on the card. Photo: Jack Lyons.
We head to Leopardstown today for their first flat meeting of the current season and I have declared six to run on their eight race card. It's student day up here and bless them but it's going to be a cold one, not that that will bother most of them! They will have strong competition from Aintree this week for the award of most scantily clad but I'd say Aintree may just shade it. It's officially Good to Yielding up here which is a nice ground to start your steed for the year.
I run two in the second race with CONOR HOGAN under Gary Carroll who's having his first start of the year after been gelded since his last run at the back end of last term. He has done well from two to three and is more mentally mature too for this start. He will need all of today's trip and we will learn today whether to step him up immediately or stick at 10f for the moment. He's fit and well and ready to do himself justice.
There will be few better looking horses on show here today than YONKERS and this colt is definitely going to need 12f to be at his best but those races are few and far between so I've decided to start him today. He has done very well from two to three and I'd imagine should still be improving as it's early days yet for these trip types. I'm hoping that he can win his maiden and that the improvement needed to be a stakes horse will come when he goes over the 12f later on. But I'm still hopeful that he could be a Listed type later on.
The Heritage Stakes is today's big contest and eleven go to post for this 8f Listed race. PSYCHEDELIC FUNK has his first start of the year here and we gelded him after his last start of last season. He's not as heavy or gross as he was last year which means that he's easier to train and keep right and that can only mean that he will handle this faster ground a bit better than he used to. Where he looked like he needed genuine soft ground to be at his best we may get away with good ground this year but we will learn more after today. He's never a flashy work horse at home, in fact on what we are seeing he's not ready to win a race of this calibre yet but he is a dual Gr3 winner and does seem to save his best for the track, it's nice to get him started this early again.
RITA LEVI was a tad frustrating last year but it seems that I may have been running her over the wrong trip! It now looks like she will definitely need at least 7f and may even get further later on. She is drawn 11 of 18 here which is not ideal on this 7f track but in maidens you can just about get away with it. I think she will improve again for some sun on her back but she's ready to start and run well today.
MERRICOURT is a grand sort that just eats and sleeps and doesn't get that fussed about anything one way or the other. He may just fall into the 'just a horse' category but he has shown enough in the past to suggest that a race of this nature is within his reach. Sadly today he is drawn 16 of 18 and in handicap company over this 7f that probably is his winning chance gone. We will start him anyway and Colin will take his medicine and ride for luck and hopefully we will have another day.
MY MYSTIQUE was very frustrating last summer as I always thought that she was better than she ran. She has dropped down to a winning mark in my opinion of 72 now but again she is drawn 14 of 18 and I'd say that's her chance gone for today. We work ours at home here every Saturday and Wednesday and for that reason we will treat today as a 'work' day and any prize money gathered will be treated as a bonus.
I know a lot of trainers take theirs away for race course gallops and I rarely do as I believe in getting paid to gallop as opposed to paying to gallop. With draws like I've received today I think that any win will be a bonus and I'm just happy to be starting another six to blow the winter cobwebs away.