EVENING ACTION AT THE CURRAGH, 31ST AUGUST 2018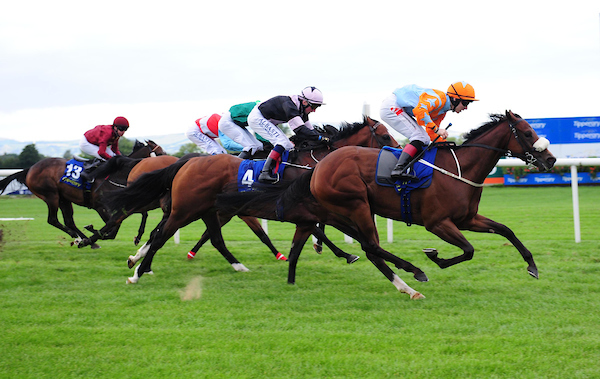 Photo: Blue Uluru earns well deserved blacktype in the Kilfrush Stud Abergwaun Stakes (Listed) at Tippearary last night, one of three winners for Glenburnie!
We are back racing at the Curragh this weekend and it all kicks off this afternoon with a 2yr old 6f fillies maiden. MY LAUREATE goes to post as favorite in a big field of twenty four runners and will need lots of luck in running in a field this size. She ran well on debut at Fairyhouse and I've given her plenty of time before starting back. She's from a great family that I've been very lucky with and by a sire that not many know about but has produced some nice ones from a very small number.
I'm happy with her and she's done well for her break but I would imagine will only start to show her true self from next summer on.
SINGER is a filly by one of my favorite sires Oasis Dream and one that I've taken my time with. She is ready to start here today but will benefit enormously for the experience. She's a January foal but needed all the time that we've given her and a good positive run hopefully finishing in the frame would be very acceptable today.
SHAPES is a filly that I backed off completely after a couple of disappointing runs earlier in the year. Her juvenile form is very good as she ran placed twice from only two starts to the great ALPHA CENTAURI and if I can get her back to that sort of form she would win most maidens. I'm a bit between trips with her but my mission is for her to win her maiden as she already has Blacktype and then we can decide what to do regarding her future. She's ready to run and working well now let's see can she reproduce that on track today.
Now to another enigma in WOULD BE KING! This lad also had a good juvenile campaign without winning and we thought it was just a matter of winning his maiden this year before stepping up. Sadly he hasn't helped us and shows a distinct lack of bottle on the track which is infuriating as he's a highly rated maiden. I'm stepping him up to 10f today on a fair track with no headgear and we are going to start from scratch as if it's his first run! If Colin can produce him like he did on Tennessee last night then that would be just perfect but I'll believe it when I see it!