Friday night at Dundalk and we send three runners to post.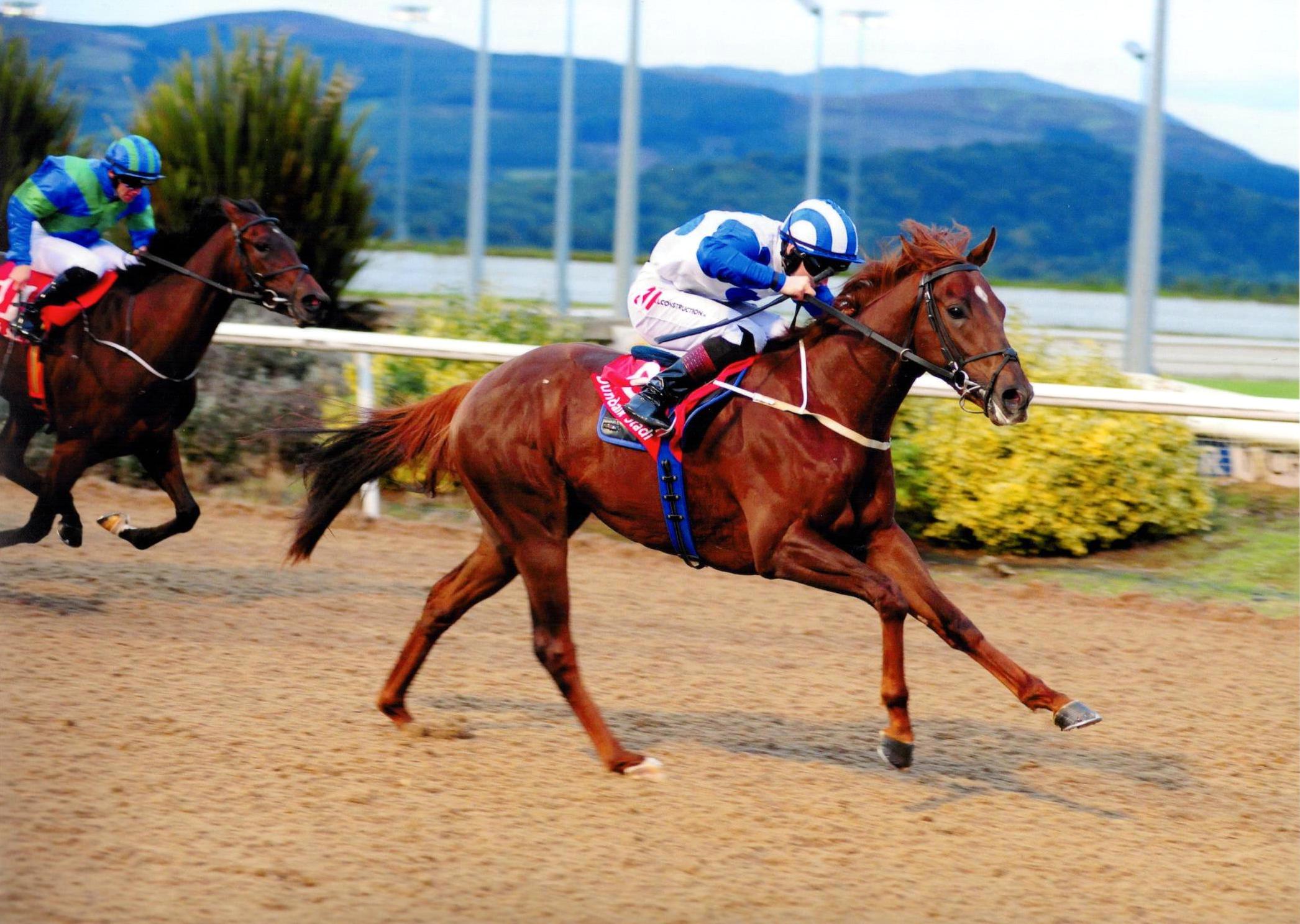 Picture: Glastonbury Song winning his maiden at Dundalk last season.
We are still relying on Dundalk on Friday evenings well into April, even though the turf season is up and running! I've declared three but have been fairly selective with what I've sent up here over the last twelve months as some aren't returning from there as well as they used to and the track is well overdue an overhaul in my opinion.
BUDDHA BOY is a grand little sprinter that eventually won his nursery up here last December. He was far too free in his work/races last year and thankfully he seems to have grown out of that habit this season. He starts this campaign off his winning rating of 62 and I would like to think that he can win another little one at this level before the Handicaper nails him. BUT he has to help Colin through his race otherwise he won't get home. If he learns to settle we may eventually stretch him to an easy 7f but at the moment this is his trip. He has done well physically and if he holds up mentally then we have a chance with him but he's low grade. His weight surprises me as he looks much stronger now than he did when he was heavier on the scales!
CW 428kgs
LW 455kgs
HARBOUR BEACON had two quick runs at the back end last season and maybe should have had only the one. He was basically a shell of a horse last year and was always going to be a better 3yr old. For a big Colt he's a lovely mover and floats along so I'm hopeful that he will handle this track and that this outing will set him up for the coming months. He's just ready to start and I took the view that this was the right race and hopefully he will start to thrive and strengthen up after this outing.
CW 455kgs
LR 450Kgs
GLASTONBURY SONG got down to the start at Leopardstown and Colin said he couldn't believe how green he behaved. It was like it was his first day at school, so much so, he lay back in the stalls and completely missed the break. In a listed race, that's game over and it's damage control after that. It was disappointing as I didn't expect him to behave like that and while it was a big ask to win on his first turf start I did expect more. He has come on well for the day out and we've taken the view that a low key start here would be more beneficial for his future. He shows plenty of speed at home and I'm sure that he will get the mile and a race like the Jersey could be a future option. I will be more interested in the performance tonight than anything else and hope that he can be more professional and mature and give us confidence to proceed with our program for him. With luck he could be one of our better ones this summer.
CW 448 kgs
LR 445kgs
LW 447kgs
HGD
Comments