DOUBLE HEADER WITH DUNDALK AND LEOPARDSTOWN, 12TH JULY 2018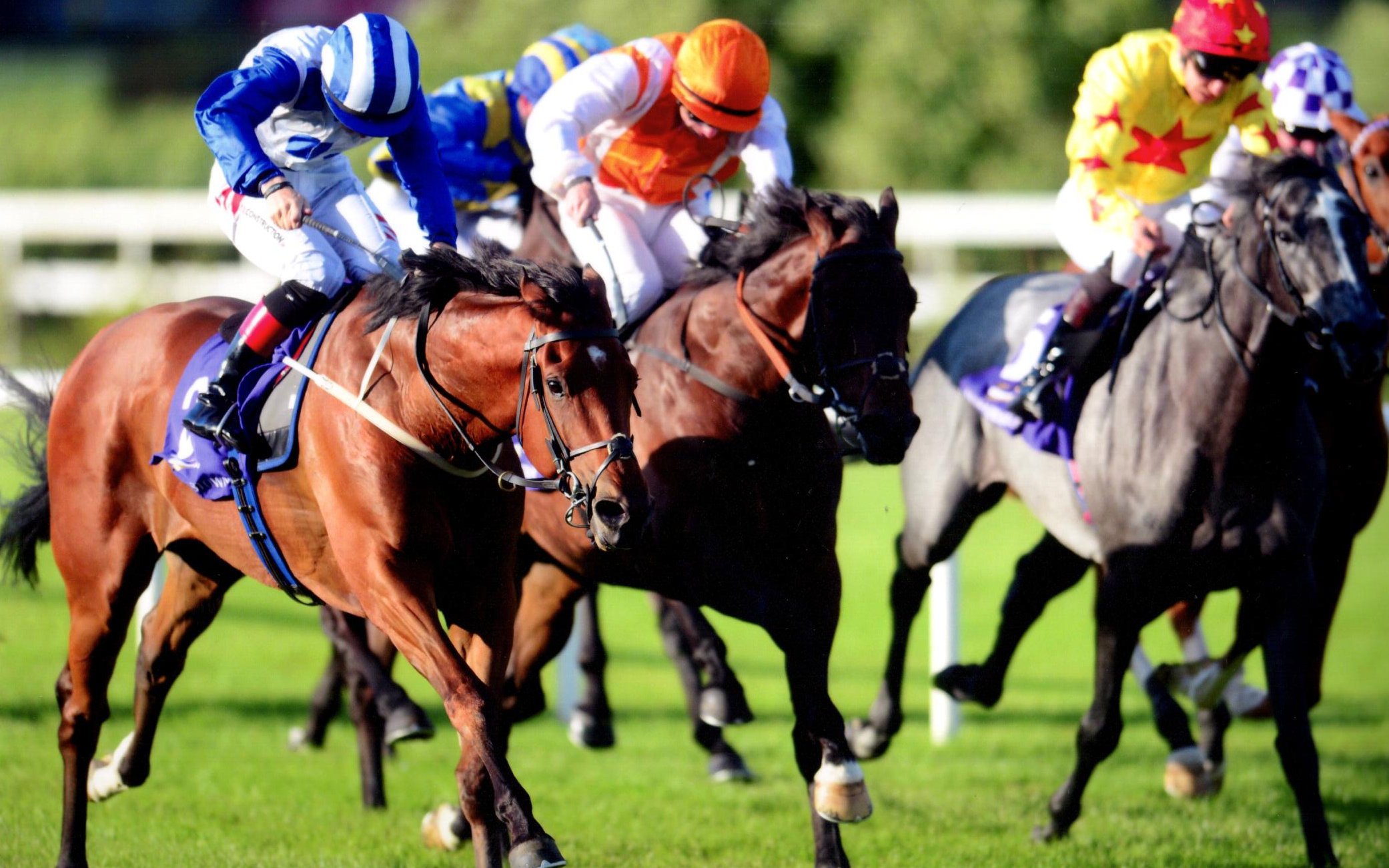 Above: Bucky Larson is back to 8f at Leopardstown this evening where we also run Tennessee Wildcat and Mawaany. Poetic Light and Would Be King kick off proceedings at Dundalk this afternoon. Pic: Healy Racing.
We find ourselves with a doubleheader today even though we've had no flat racing yesterday or tomorrow but our powers that be decided that having two on today was a good idea! I'm sure there is a logical reason for this. There really is no need for the clash but we soldier on.
I've declared two at Dundalk and three at Leopardstown and we kick the day off with a lowly claimer in the first at Dundalk. POETIC LIGHT has been disappointing since winning his maiden last season and we've took the bull by the horns and dropped him completely in grade to try and win and if he's claimed then icing on the cake! I've put blinkers on him but not sure that they will help but we needed to do something as he didn't show much fight the last day at Bellewstown. I suppose on his maiden winning form he should be involved here but again, he needs to help us and try a bit harder today.
WOULD BE KING is a highly rated maiden with some very good placed stakes form on his CV. He never showed up on his run in the 2000 Guineas the last day and we gelded him on his return home. He has been training well since then and winning a maiden like today should be a formality for him and hopefully he does so we can get him back on track. I've always rated this lad to at least Listed or Gr3 level and hopefully we will start seeing that level of performance from him going forward. My only concern today is the track as I do feel that he would appreciate a little ease in the ground and I'm running today as the turf tracks are too firm and am hoping he handles the all-weather as I need to start him back now for the program ahead.
Up at Leopardstown we start with the very consistent BUCKY LARSON who I tried over 10f the last day but is back to his favored 8f tonight in a bid to win his third of the year. He is absolutely thriving at the moment in this weather and looks bigger and stronger after every run. Obviously he is gradually getting higher in the handicap and will eventually be caught but I'm hoping that there's at least a race of this nature in him still. He seems to like this track as well which can only be a bonus.
The Nasrullah Premier handicap over 10f is a race worth winning and I've declared two in it. TENNESSEE WILDCAT has proven that stakes races are beyond him now and so he will concentrate at this level going forward. His problem is that he is still a bit highly rated to be competitive here but on his best form he could run in the money. The positives are that he loves fast ground and 10f is his optimum trip and Gary does get a good tune out of him too.
MAWAANY would be very competitive here if back to his best but ideally he would prefer some soft in the description but we bought him to win a race of this nature and so he is being asked to line up. It's very hard to win one of these races over here as the handicapper doesn't miss you when you run well and you may only get one chance and a couple of placed efforts could cost you a big one, this could be the case with this lad today.
So not that many runners but the ones we have, have chances and let's hope we can collect a winner at least from either of the two meetings.