A busy evening for the team with seven runners at local track Fairyhouse.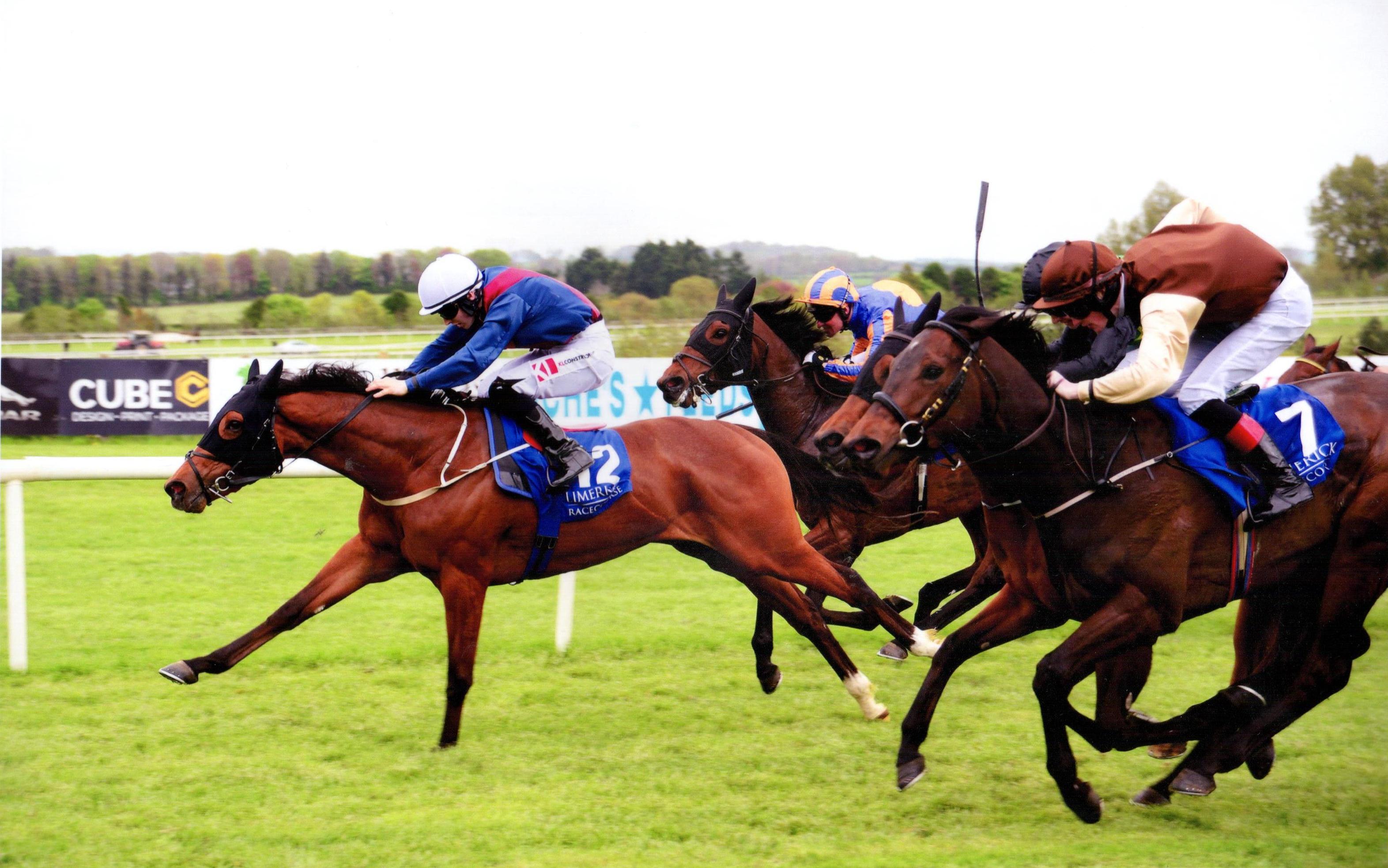 Picture: Mollie The Moo winning at Limerick.
Another busy evening at our local track where we have declared 7 to run tonight. It's great being busy and I love having runners in as many races on the card as I can, especially at any of the tracks that are local to us. The ground has been drying up all week and the few heavy showers that fell yesterday should keep the sting out of it tonight but I'd imagine it will be still fast going.
Our first runner is MOLLIE THE MOO in the fillies conditions race where only five are going to post. We are a little wrong on ratings but it's an ideal race to start her back after a little set back since her last start. She has plenty of natural talent and I think one that is still on the improve, if anything she could be just one gallop short but it's hard not to take your chance in a small field and a race of this value.
CW 450Kgs
LW 431kgs
I run two in the fillies two year old race and Colin has chosen MY MYSTIQUE who in fairness, would be the better of our two on her home work. I have liked her from the start and she has a lot of the qualities that her sister Ainippe had but is more precocious than her big brother INSAYSHABLE. As with all my two year olds, she is ready to start and should improve plenty for the run but I'd hope to be in the frame with her.
CW 408kgs
SHALAILAH is a smaller but stronger in stature sort that is, in her own right, a nice filly but probably will need this a tad more. Both have good draws and she is ready to run well but it would surprise me if she beat our first choice tonight.
CW 432kgs
If homework is anything to go by then SILK CRAVAT wins his maiden all day long but the way he behaved on his first start for me left me thoroughly disappointed with him. He got all wound up at the races which is so unlike him at home and we've fitted a hood on him tonight to help him from getting upset. With no excuses I would be hopeful of him running well in this and hopefully the last day was just a case of being too fresh in himself.
CW 453kgs
LR 469 kgs
BUDDHA BOY did well to win for us at Dundalk last Christmas as he was rushing his work and doing everything wrong. We have been very patient with him and he is now doing things a bit better at home but he still has his moments. He loves fast ground and the 6f should be ideal and off his current mark he should be making his presence felt in this company.
CW 433kgs
LW 455kgs
IL PICCOLO GRANDE is a strapping big horse that should enjoy the step up to 7f and should be capable enough in this grade of race. He is a big bully that will try it on with the handlers at the start and hopefully he will grow out of this behaviour in time. At home he will literally walk into the stalls on his own like a Christian so it's bloody annoying to see him misbehaving on track. He can run well but I'll be happier when I've seen him become a bit more consistent on track.
CW 518kgs
LR 520kgs
THUNDER CRASH is a slow burner that has kept his best for the track. Slowly but surely he is doing well physically and any improvement on track should see him win a race of this nature soon enough. He will love the 12f and fast ground but is still vulnerable at this stage of his progress and I'm hopeful that I can win with him before too long.
CW 432kgs
LR 430kgs
Comments