We've 7 going to post today at Leopardstown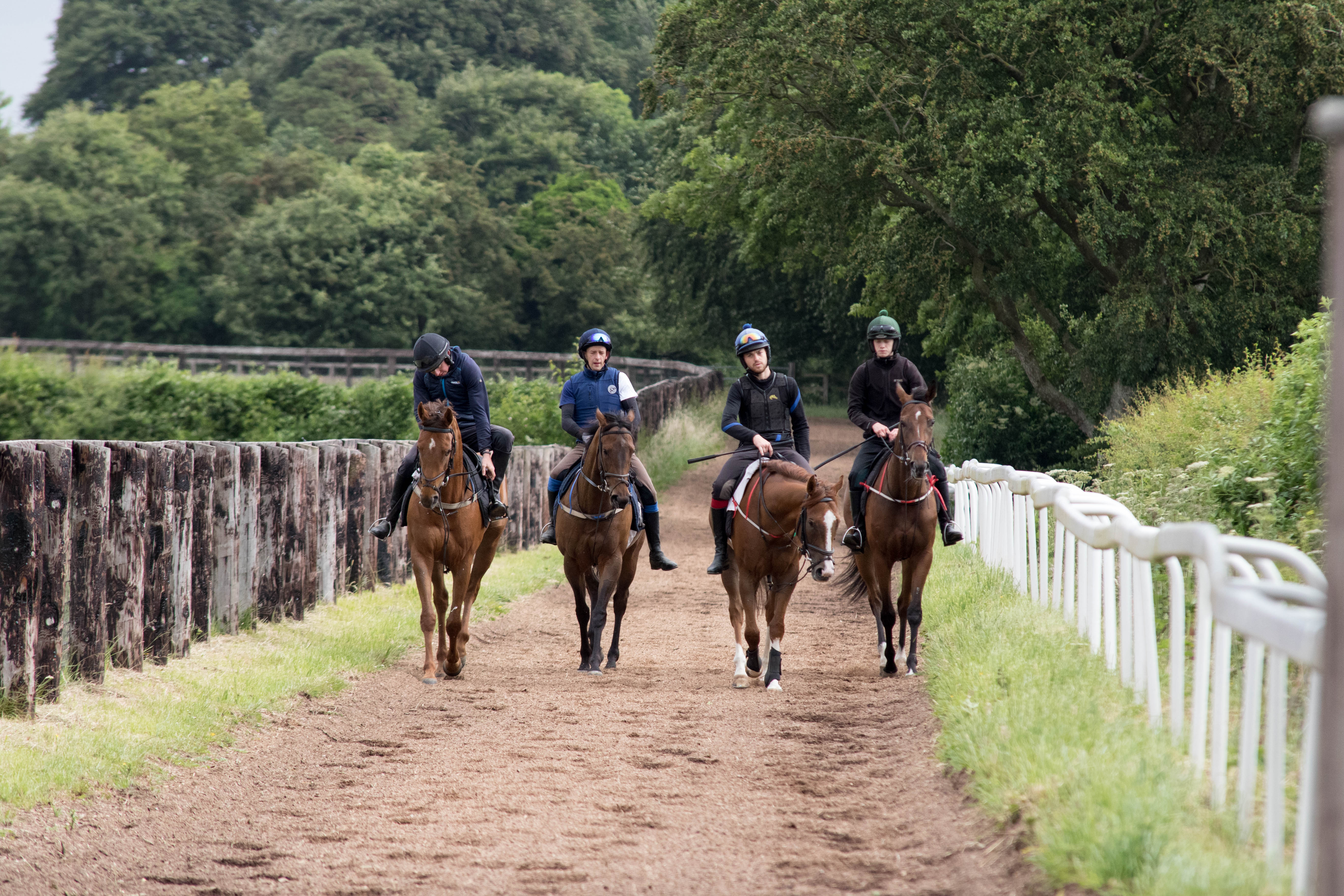 Thankfully as the season draws to a close we find ourselves busy this weekend at Leopardstown today and Naas tomorrow. The horses have been scoping poorly recently so we backed right off them while I was at the sales and didn't put any of them under any pressure and let them come through whatever they were carrying. They all seem good and fresh now and while they're all fit, they just could be running a gallop shy and I would probably wait with some under normal circumstances but we don't have the luxury of time on our side at this moment.
I run seven today and we kickoff in the first race with HELIAC in the fillies maiden over 8f. We started her back in August and only waited with her this long as she had a few setbacks at home but is fit and ready to run now. I imagine the extra time we gave will only stand to her and the extra furlong today should play to her strengths. Negatives are obviously the current stable form and her outside draw of 12 of 20 which isn't ideal around here but will just determine how we ride her, I'm hoping for a solid run that builds on her first one and a win would be a bonus as we have Dundalk up to Xmas if we need to use it.
CONOR HOGAN ran satisfactorily on debut at Naas and will improve for that experience but ultimately is one for next season over 10f plus. I was hoping to be able to get another run into him before putting him away and was delighted he scoped clean this week which allows me run him around this track which will stand to him but he will stop after today regardless and go for a break. I will be happy with a similar run today as we know that 8f is on the sharp side for him and again stall 19 of 19 is a negative.
SCORCHED EARTH is a full brother to the recently retired Washington DC and ran ok on debut at Naas before fading in the final furlong. We think that 7/8f is his ideal trip just now and are running back today as it's a top class track on nice ground and I felt that we would learn more about him running him rather than galloping at home. Depending on what Gary thinks will decide whether we run him again up at Dundalk to win his maiden or not. I would expect him to be a sharper sort than Conor Hogan trip-wise so today's race should prove informative and stall 3 of 19 is a bonus for him.
Our next race on the card is for jockeys that haven't ridden a certain amount of winners this season and I run two in this. TONY THE GENT is, as you know a yard favorite and we now use him for leading work and he's ideal to give young Johnny Shinnick some racecourse experience. Obviously he's up to winning a race like this on his best form but he can be tricky and Johnny just mightn't have enough experience yet to get the best out of him in the closing stages. He has a good draw and we will keep it simple and ride his draw and hope for a good run.
BUCKY LARSON has been brilliant this season and has grown into a lovely solid horse that just could develop into another premier handicap type next year. He seems to love this track which was the reason we run him and it's nice to give Donagh a chance of a winner as he works hard. I've given Donagh the leeway of carrying overweight if it helps him as he's a big lad and claiming off 9st is his minimum weight. Again we have another bad draw here, 13 of 16 isn't ideal but we will be riding him cold anyway and hopefully Donagh will use his experience and have balls of steel and arrive on the scene late!
JOHNNY DRAMA is a big horse that came in late and we've been waiting to run him as we wanted some soft ground for him. It's amazing that here we are in October after a very dry summer and our horses that need soft going still haven't got their ground yet. This is a lovely big horse that gallops well and is owned by Ronnie Boland who does a lot of work with our string as his farm is where we send all our horses for some R&R and it would be nice to train a winner for him at some stage. If not today, this lad will be winning and if I have to wait until next season then so be it but we like how he goes and he falls into the category of "could be anything!" Stall 15 of 22 is another outside draw.
The final race on the card is for THE KID BOBBY B and yet again we've drawn poorly in 12 of 19. This lad has been disappointing since winning last October at Dundalk. He's not a big horse and it's nice to see him run on grass as he hasn't ran on it since his debut at the Curragh last summer. We run him in blinkers and he also wears a tongue tie, I'm just hoping for a good solid showing as he's on his way to the HIT sales next month.
HGD🇮🇪