BUSY DAY WITH SIX RUNNERS AT NAVAN, SATURDAY, 30TH MARCH 2019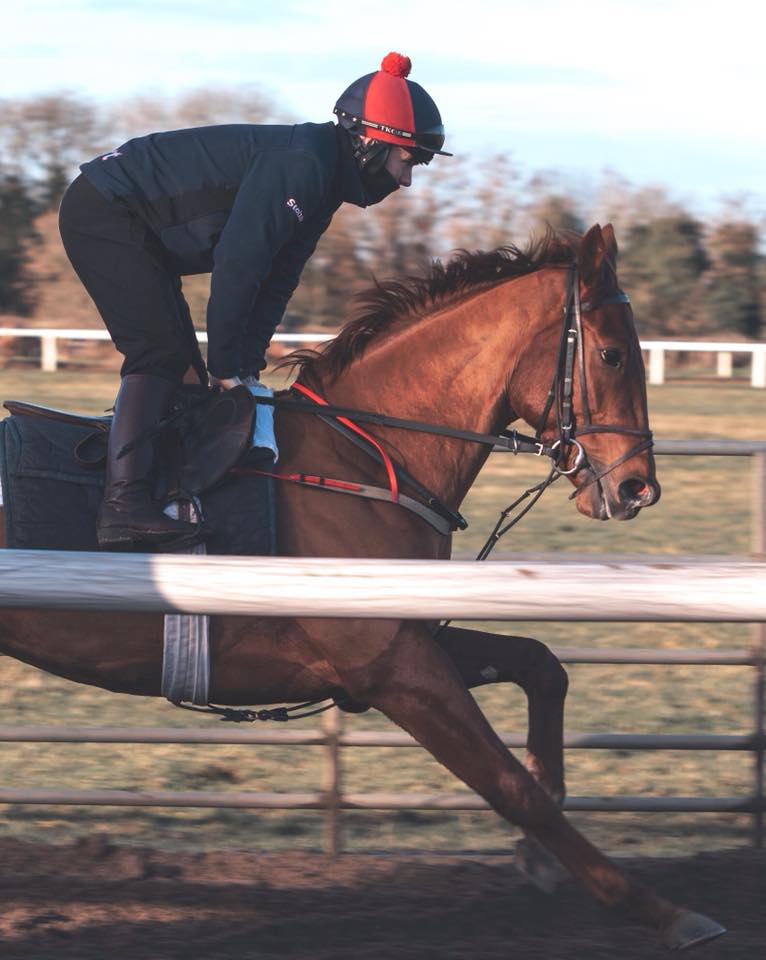 Colin steers our six runners today in an eight race card at our local track. Photo: Jack Lyons.
We head to Navan today with seven declared to run on their first flat meeting of the season. After a drying week the ground is officially good to yielding and I'd imagine it will be a beautiful surface to race on today. Our first race is over the minimum trip of 5f with a full field of 23 going to post.
HEAVENLY RAINBOW is our charge and he is drawn in stall 5 and it should be a real cavalry charge for these 3yr olds. Our lad is not necessarily a real 5f type and more than likely will get 7f but 6f is probably his optimum trip at this moment but we will learn more today. He has done well over the winter and seems in good order and as it's very local to us I decided it was worth galloping in here today with the opportunity of collecting some prize money, beats paying for a racecourse gallop doesn't it? In fact, I entered everything I could here as Saturday is our work day and I've taken the view that some may as well avail of this facility and get paid for doing so!
The Cork Stks Listed race is today's main attraction and it's attracted a very competitive field of 16. Among them are some very experienced campaigners and winners of races at Group and stakes level. MEDICINE JACK is one of our stalwarts and I'm hoping that there's another big day or two in him yet. As with all sprinters you can race these guys every day of the week and get a different result each time. He has shown some of his best form on a soft surface and I believe today's good ground could give us a funny result today.
(BURMESE WALTZ won't run today as she was found to have a high temperature)
The 8f maiden has been divided as the entry was so big and I've declared two, one in each division. CALIFORNIA DADDY is a beautiful big colt by Scat Daddy that I put away early last summer in order to let him grow up. I'm happy with how he has done from two to three and he's a colt that could progress this summer. Today will be a good test for him and we will learn plenty about his future trip etc after today's race. On his two year old form this guy should be involved in the action today and I'm looking forward to seeing him run.
The second division I have INFLECTION POINT having his second start after a very average debut last August at the Curragh. We gelded him after that run and gave him a good long break to grow up and mature. He came back from his holiday in great nick and he has grown into a lovely strong horse now. Mentally he still needs to grow up a bit more but I'm happy that he can run a nice race today and should be up to winning his maiden soon.
I was hoping to run BOBBY BOY in last Sunday's Lincoln but he didn't make the cut. Today's race is a much lower grade and he carries top weight in it for that reason. Logically if we thought he'd run well in the Lincoln then you would think he'd be strong in today's race and hopefully he will be but racing in Ireland is never that cut and dried and he will have to be at his best to carry top weight and win this one. Not an easy horse to ride at home he will have to help Colin to win and hopefully he will.
The 3yr old 10f handicap is our next race and DREAMBOAT DAVE is our one that qualifies under the rating band of 45-70. We gelded him at the end of last season after giving him two AW starts at Dundalk. We learned that he was going to need this trip at least this year and this is the first 10f for them and it's good to have him fit and ready for today's race. Sadly he's drawn outside in stall 14 which is a negative but on this galloping track I will leave it to Colin to do it the way he sees fit as he usually gets it right.
So it's a nice busy days racing for us, as I like it and I am hopeful that we can rob a little one which will settle the nerves as we kick on into the flat season now.
HGD